Join The Lincolnshire Chef and learn to cook and eat more fish as part of their Made Great in Grimsby virtual events.
Every other week, over the next ten-weeks, The Lincolnshire Chef aka Steven Bennett, Chef Patron of Healing Manor Hotel will be joined by experts from the fishing industry as well as some familiar local and national faces to champion Made Great In Grimsby's 'Eat More Fish' campaign.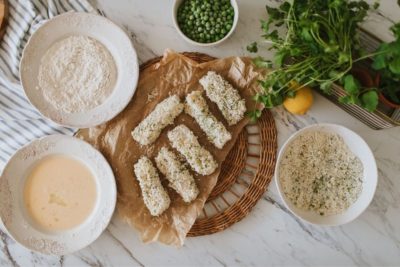 Following the pilot episode of Made Great In Grimsby and #EatMoreFish, which saw Steven and Patrick Salmon – of Grimsby's illustrious Alfred Enderby Ltd – take to the mini silver screen and cook up a delicious batch of Smoked Haddock Scotch Eggs, Wednesday 17th saw Mariner's goalkeeper, James McKeown and his wife Chloe, join Steven in the 'virtual' kitchen.
This new Instagram TV Series , has been created to show food-lovers just how easy and cost effective it is to introduce fish and seafood, that is so proudly produced in Grimsby, into their diet. In this particular episode, which showed Live at 7pm on February 17th, Steven, James and Chloe will be cooking up some recipes designed to get every single member of the family eating more fish.
So, what's on the menu? Steven explains: "In the second episode of Made Great In Grimsby #EatMoreFish we'll all be cooking a 'posh fish finger sandwich'. We will be using cod, sponsored by one of suppliers to Healing Manor Hotel – Premier Seafoods . At the moment cod is one of the most cost-effective fish to opt for. Due to Brexit and the supply chain as it stands following the deal trade, how we see cod in the industry has actually taken a U-turn.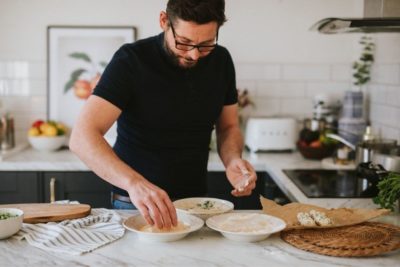 "The cod we use in the kitchen at Healing Manor Hotel is always sustainably caught, we know that nothing else is supplied by Nathan at Premier. It's one of the most familiar fish to UK households, but so underutilised. Fish fingers are the perfect family friendly recipe for me to try out with James and Chloe. Not only do they need to make sure healthy meals are served up for Jamie and the girls, the McKeown family also needs to cater to a variety of tastes. So, we're going to be cooking two versions – one a cod fish finger sandwich with salt, vinegar and ketchup and the other with crushed chilli peas and tartare sauce. I really want to show families that cooking at fish at home doesn't have to be complicated or costly, and that it can be something fun to involve the whole family in."
Now known as the adopted Made Great In Grimsby chef, Steven – very much like the trademark itself – is proud of all that is produced on his doorstep, in the town and on the docks of Grimsby. Steven has long been a champion of the true value of local produce, its seasonality and its sustainability – basing all of his menus and dishes on this availability.
Made Great In Grimsby is an initiative by Grimsby Fish Merchants Association to create an awareness of the hundreds of fish and seafood products processed (Made) in (Great) Grimsby. Trademarked in 2020, the three fish logo is a mark of quality and provenance. It was created by a core industry group who are all proud to work and live in Grimsby, to shout about the abundance of phenomenal seafood products created in the cluster. Its messages are promoted on both Twitter and Instagram platforms @GrimsbyFishNearYou
Seafish Industry Authority is also lending its support with the 'Love Seafood' initiative. Combined, both campaigns are driving to get more people eating more fish more often – and, hopefully, from hard-working folk proudly upholding the heritage of Grimsby.
Catch up on the first episode, making Smoked Haddock Scotch Eggs with Alfred Enderby and The Lincolnshire Chef​