This tasty veggie bake is not only flavoursome but packed full of goodness, and would make the perfect centrepiece when you're cooking for your friends and family.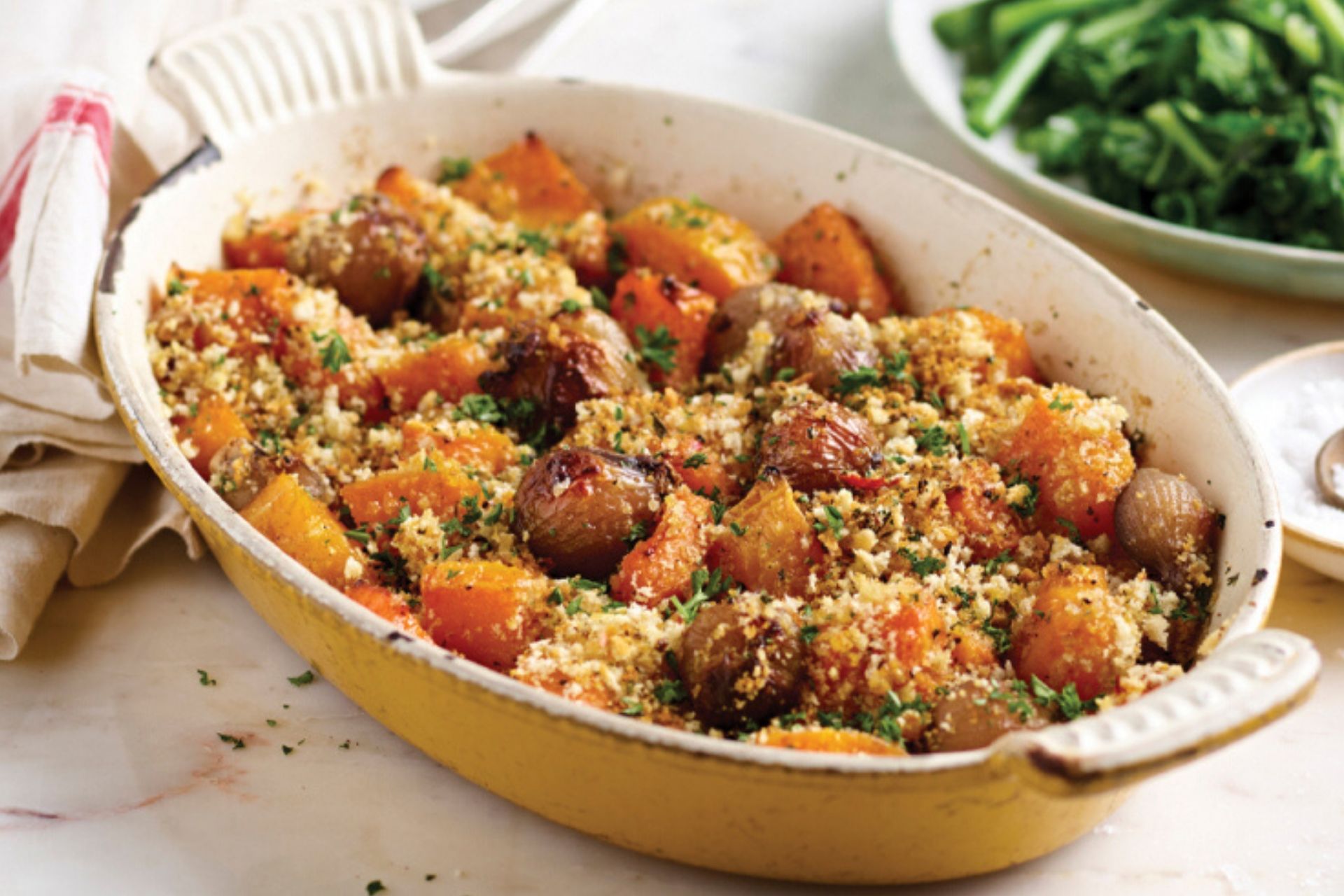 Baked Shallots and Squash with Crispy Rosemary and Chilli Breadcrumb Topping
1kg butternut squash, peeled, deseeded and cut into 5cm chunks
5 tbsp olive oil
12 Lincolnshire shallots, peeled
Sea salt and freshly ground black pepper
3 cloves garlic, peeled and finely chopped
1 red chilli, deseeded and chopped
1 tbsp rosemary leaves, chopped
The zest of one orange
120g fresh white/brown breadcrumbs
Preheat oven to 200c/Gas mark 6/400F
Peel the butternut squash and discard the seeds.


Cut the flesh into large bite sized chunks about 5cm.


Place the shallots in an ovenproof dish, and toss with 1tbsp of the oil, season with sea salt and black pepper and place in the oven for 15 minutes.


Remove the dish from the oven and add the butternut squash, and making sure the vegetables are well coated with the oil and butter mixture, and cook for a further 15 minutes.


Meanwhile, heat the remaining olive oil in a saucepan over a moderate heat with the garlic and cook for one minute taking care not to burn the garlic.


Add the chilli, rosemary, parsley and the orange zest, stirring all the time. When thoroughly mixed, add the breadcrumbs and season.


Cook for a further minute then take off the heat and set aside.
Remove the shallots and squash from the oven and reduce the heat to 180c and spread the breadcrumb mixture over the top and return to the oven for a further 25-30 minutes or until the breadcrumbs are a deep golden colour.