Lincolnshire's natural coast
the biggest of skies and the widest of beaches
The biggest of skies and the widest of beaches, on Lincolnshire's Natural Coast. Kick off your shoes and explore and unwind with the wind in your hair. Free in every sense, Lincolnshire's Natural Coast offers miles of clean wide sandy beaches away from the bustle of the holiday resorts. Walking, cycling, bird watching or just soak up the wide open spaces.
get closer to nature
Big skies and wide, clean, safe sandy expanses are just waiting to be discovered. Lincolnshire's Natural Coast highlights the great spots for bird watching and where best to discover some fascinating wildlife and plant life.
Nature & Landscapes
wildlife & reserves
Down the length of Lincolnshire's coastline there are nature reserves large and small, all with parking and well sign-posted. Some are of international importance and all are worth a visit as they attract different birds or plant life and some are particularly attractive to seals.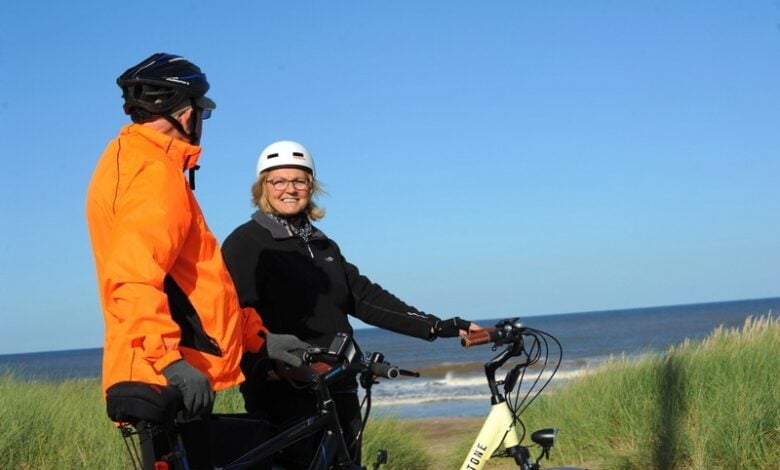 cycling trails
There is over 50 miles of coastline from the Humber to The Wash. You might want to cycle inland into the Wolds for its rolling hills, hidden valleys and historic market towns. Sustrans Route 1 includes part of the coast and wolds and includes an off-road section on  Water Rail Way, the former Lincoln to Boston line.
explore further in Lincolnshire
Nearby on Lincolnshire's Natural Coast could mean a circular walk inland to visit one of the many medieval churches in the marshland villages. Or it could mean going further inland to visit an historic market town, country house or castle, some aviation heritage or a walk in the rolling Lincolnshire Wolds. We've a few ideas for you.