picturesque villages, historic market towns and wonderful rural heritage
Home to the market towns of Gainsborough, Caistor, and Market Rasen. The countryside north of Lincoln has an abundance of local attractions and activities to enjoy. From the county's only Racecourse to one of the best preserved medieval manor houses in England - making the North of Lincoln an essential destination for history enthusiasts. It's also an ideal location for access to even more things to do in Lincoln, the North Countryside and the Lincolnshire Wolds.
Enjoy a fantastic shopping experience at Marshall's Yard, outdoor shopping centre located in the heart of Gainsborough Town Centre. Shop at over 30 popular brands and be spoilt for choice with their vast selection of places to drink and dine.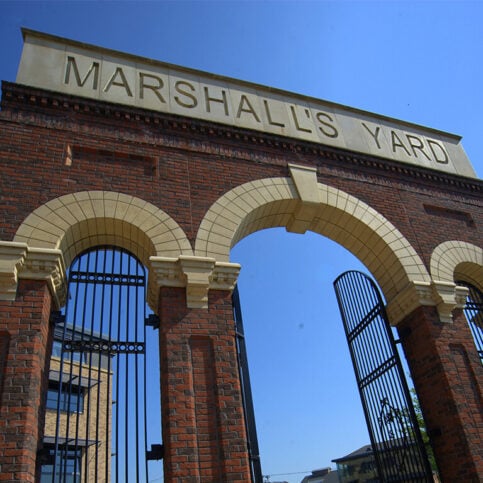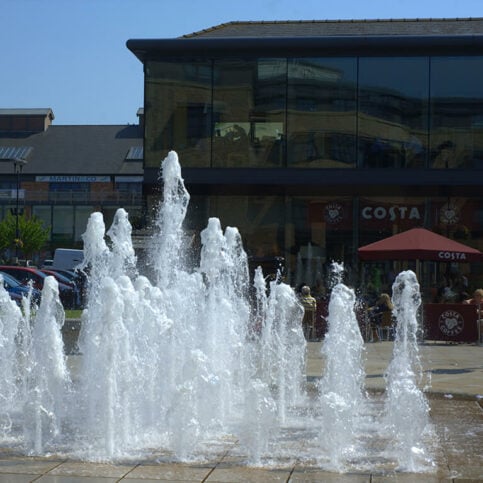 Things To Do
one of our best kept secrets
Discover one of the largest and best preserved medieval manor houses in the country. Learn all about the powerful, rich and flamboyant Burgh family and their famous guests including Richard III and Henry VIII.
things to do
Bransby Horses
Visit Bransby Horses - rescue and rehabilitation centre for horses. Spanning 600 acres of beautiful countryside, meet hundreds of horses, ponies, donkeys and mules living on site.
things to do North of Lincoln
A hidden gem found in the North of Lincoln. Built by Thomas Burgh in 1460, Gainsborough Old Hall is over 500 years...
Established in 1847, but recently bought by the Wallis Family in 2016. The Cross Keys Stow is known for revolutionizing the way people eat and enjoy food. They take...
"A smashin' pub" and restaurant in a village a little under six miles north of Lincoln Cathedral, serving three separate menus; Weekday Lunchtime; Weekday Evening...
Visit Redhill Farm Shop as you either shop in Lincoln's famous Bailgate or directly on the Farm in Morton, Gainsborough....
Visit Seven Districts Coffee House for freshly roasted, ethical coffee, locally roasted and full of...
The Cheese Shed @ Cote Hill Farm
Discover a unique shopping experience at Cote Hill Cheese dairy farm. Shop delicious local produce and know where your food comes from....
Experience a friendly welcome and enjoy great food made for you. Uncle Henry's is part of a family farming business, run by the Ward family....
Grayingham near Gainsborough
Ferry Ales Brewery is a 5 barrel micro brewery with the capacity to brew up to 5,000 pints of beer each week....
Cheesemongers specialising in a wide range of artisan, farmhouse cheeses, with the added bonus of an in-house Cheese Café....
Ashlin Farm Barns offers 5 luxury holiday cottages, each with their own private hot tub, only 5 miles from Lincoln, in beautiful countryside....
Open all year round and set in the idyllic Lincolnshire Wolds. Adult Only Touring, Luxury Lodges and Holiday Homes. Well Stocked Fishing Lakes and a Platinum Multi-Award...
Hemswell Court has recently been awarded a five star status for guest accommodation and...
The 5 themed yurts on this beautiful campsite are nestled just 1 mile away from the beautiful village of Welton in Lincolnshire and are situated within an 11 acre...
Setcops Farm, nestled by the edge of the Lincolnshire Wolds has six self catering holiday cottages and a log cabin for couple retreats....
Six award winning luxury self catering cottages in the Lincolnshire Wolds for holidays, short breaks and business travel....
East Farm Cottage is situated overlooking open fields on our 400 acre conservation award-winning farm. Nestling at the foot of the Lincolnshire Wolds - a perfect...
Glentham Grange is set in the beautiful Lincolnshire countryside near Market Rasen, surrounded by...
Masondale Cottage offers a 3 bedroom, 3 bathroom self-catering holiday cottage with a hot tub on the edge of the Lincolnshire...
Book your stay at in Lincolnshire with the Travelodge, Lincolnshire is home to 10 Travelodge hotels and there are plenty of things to do....
Lincoln is a short distance away
This award-winning museum is in the heart of Lincoln. Enjoy exploring the huge variety art...
Visit the Cornhill Quarter in Lincoln for a diverse selection of cafés, bars and restaurants and unique independent shops as well as popular high street brands and a...
Beautiful Elizabethan manor house just outside Lincoln with flemish tapestries and walled gardens displaying a pageant of colour all year round. Don't...
Discover one of the most historic parts of the City of Lincoln in the Bailgate and Uphill area of Lincoln. Browse independent boutiques, shops and places to eat and...
This world class attraction was originally built by William the Conquerer. Visit for Medieval Walk Walk, Victorian Prison, Magna Carta Vault and much...
A spectacular and globally iconic landmark and must see tourist attraction. Standing tall over the city of Lincoln for hundreds of...
Lincoln Visitor Information Centre
Visit Lincoln Visitor Information Centre for all information you want to know about the City of Lincoln - where to visit, what's on and...
Discover the beautiful cobbled streets and some of the oldest buildings in the city located on The Strait and Steep Hill. Shop at a variety of unique independents...
Visit Lincolnshire's only purpose built art gallery at the heart of the city's cultural quarter, next to The Collection Museum....
Visit Woodside Wildlife Park to see an amazing selection of wild animals up-close including tigers, lemurs, tapirs, penguins and...
Running 3 trips a day for 50 minutes listen to historic commentary down the fossdyke canal the oldest Roman canal in the country....
Enjoy this 100-mile cycle route from Lincoln Castle to the Lincolnshire Coast and back again retiring via the scenic Lincolnshire...
Opened in 2007, our award-winning Farm Shop was born out of a passion for good quality, seasonal, local food....
Visit the Everyman Cinema located in the Cornhill Quarter for a relaxing, redefining cinema...
Walk, run or cycle along the Fossdyke Canal Trail which runs alongside the canal from Lincoln to Saxilby, approximately 6 miles. Built by the Romans to join Lindum...
Walking Tours and step - on coach tours in the historic City of Lincoln. Scheduled walking tours of the historic Cathedral Quarter by qualified...
Lincoln Performing Arts Centre
Discover the Lincoln Performing Arts Centre for a 446-seat multi-purpose auditorium, designed for live arts performances, conferences, and film screenings, which is...
Enjoy the great outdoors as you experience the route of the Lincoln Grand Prix Sportive cycle route through the Lincolnshire Wolds. Discover some of the quietest and...
Lincoln Water Park offers family fun for all! Make a splash at the fantastic Aqua Park, or take on an Adventure with the Mini Port...
Home of the celebrated Lincolnshire Show. Diverse venue just outside Lincoln, playing host to events, live shows, conferences and...
Hilda Smith's humble, homely cottage grants visitors unique access and insight into the life of a rural Lincolnshire...
The Museum of Lincolnshire Life celebrates the history and culture of Lincolnshire with an impressive and extensive collection of items from 1750 to the present day....
Discover this picturesque and largely traffic free cycle route from Lincoln Brayford to the Nottingham village of Harby. In total the route is 6.6 miles, taking...
Visit the New Theatre Royal in Lincoln for a traditional theatre experience. The present theatre, initially called the New Theatre Royal, was built in 1893 to the...
Rand Farm Park is a multi award-winning, child-focused attraction for a fun-packed family day out whatever the...
Visit Redhill Farm Shop as you either shop in Lincoln's famous Bailgate or directly on the Farm in Morton, Gainsborough....
Indulge with an afternoon tea, destress in the hot tub, unwind in the sauna, detox in the Rasul mud Temple, awaken your senses in the plunge pool, relax with a luxury...
Lincolnshire's largest live music and entertainment facility, housed in a renovated engine shed, in the heart of the city. We serve Lincolnshire with live and diverse...
Discover the perfect tour for thrill seekers. Listen to the spooky stories and ghostly tales of the historic City of Lincoln....
Explore the great outdoors and enjoy Lincolnshire's scenic landscapes along the Viking Way. The Viking Way is a long-distance walking route that is named after an area...
Whisby Nature Park boasts an array of habitats and plant species. Just a short distance from Lincoln City centre is this relaxing natural...
Standing almost in the shadow of Lincoln cathedral, with sweeping views over the ancient city and the countryside beyond, the medieval bishops' palace was once among...
Bransby Horses rescues equines, rehabilitates them, gives them sanctuary care and offers equine advice and support to owners. Bransby Horses is one of the UK's largest...
The last of nine windmills that once stood on the Lincoln hill top and the last working mill in Lincoln, built in 1798....
Visit Lincoln's premier escape rooms. Locked in a in a mysterious room with 60 minutes to get out. Do you have what it takes to...
Discover hassle-free, flexible bike hire in Lincoln with HireBike points located across the city. Access both pedal and electric bikes available for oneway trips, return...
Find big High Street favourites through to unique independents and boutiques. With over 300 shops and restaurants to discover throughout the centre of the city you are...
Bardney Limewoods National Nature Reserve contains Britain's largest concentration of woodland dominated by small-leaved...
Located on part of the former World War Two airfield of Winthorpe in Nottinghamshire. Discover special events & activities throughout the year, 76 aircraft &...
Visit the oldest archway in the UK still used by traffic, which is part of Lincoln's Roman North Wall. Newport Arch is the inner face of the north gate of the Upper...
Visit the RAF Scampton Heritage Centre, a small museum that acknowledges the Stations historical past, with exhibitions covering the famous 2Dambuster Raids, our First...
Travel back in time to between AD50-60 when a legendary fortress was built by the Romans in Lincoln, then known as 'Lindum Colonia'. Follow the Roman Trail and...
Get up close to rare and unusual breeds like our Lincoln Long wool, Kerry Hill and Hampshire Sheep, and our friendly Highland...
The Terry O'Toole Theatre is an intimate, 200 seat Arts Theatre situated in North Hykeham. Described as a 'Hidden gem' by BBC Radio Lincolnshire, they present a...
Visit the Little Pottery Studio to create a masterpiece, learn new techniques and explore your creative side! Enjoy free refreshments for all painters. Once you have...
Explore this area of the Witham Valley and you will come across amazing survivals of the nine monastic abbeys built in the early medieval period....
Discover this purpose built trail linking Lincoln to Boston with a mostly traffic free, off-road cycle route. Enjoy this scenic route, spot commissioned artworks making...
Enjoy hours of entertainment with a visit to Fun Farm. Discover plenty to explore including exhilarating slides, a four storey maze, tunnels, climbing walls and more....
Historic Lincoln & Surrounding Area
Lincolnshire is a wonderfully diverse county to explore by bike and this route will allow you to experience many different aspects of...
Lincoln & Surrounding Areas
Enjoy an addictive adrenaline rush as you race around 10,000 square feet of play area. Discover play equipment designed to stimulate all ages including parents, you can...
Discover this Arts & Heritage Trail that leads you from Lincoln Cathedral to St Deny's Church, Sleaford. Enjoy the rich history and local stories of the county, spot...
Find a great place to stay in the north of Lincoln area
You'll find a wide range of accommodation ideas across the North of Lincoln and links to choose from even more. 
More about the area
North of Lincoln
Explore beyond the boundaries of the Cathedral City. Discover history and heritage, unique independent retailers and an exciting itinerary of events throughout the year.