Great news for the popular Sculpture exhibition at Doddington Hall and Gardens, as it has been extended by a week.
Doddington Hall and Gardens has taken the decision to extend its biennial event, Sculpture at Doddington , due to popular demand.
The exhibition will now run until Sunday 13th September, an extension of a week, to ensure that as many people as possible will get to enjoy almost 400 unique sculptures set against the backdrop of Doddington's Elizabethan gardens.
"We've had an incredible summer at Doddington Hall, and Sculpture at Doddington has been so popular with visitors that we thought it was only right that we extend the exhibition so that as many people as possible can enjoy what we have on offer." Said Claire Birch, owner of Doddington Hall & Gardens.
"During what has been a very challenging year, it's incredible to see the positive impact that Sculpture at Doddington has had. We're extremely grateful to everyone who has come along to visit, our valued sponsors and of course to our curators, David Waghorne and Kate McGovern, and our team who have made this possible.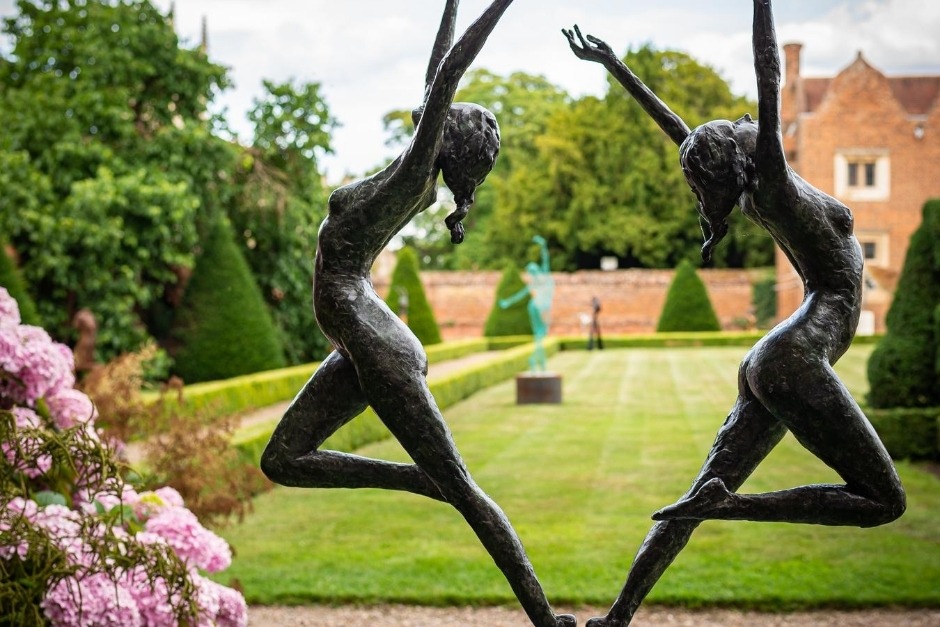 David Williams Sculpture at Sculpture at Doddington © Ellis Fizog Photography
Internationally and nationally acclaimed artists will have their sculptures features at the exhibition, including leading figurative sculpture David Williams-Ellis, whose work includes D-Day Sculpture, which was unveiled to honour the 75th anniversary of D-Day.
Simon Gudgeon, one of Britain's leading contemporary sculptors, brings a natural and abstract feel with his minimalist yet striking works. Gudgeon's work is featured in important private collections around the world, including those of HRH The Duke of Edinburgh and THR The Duke and Duchess of Cambridge. 
Jilly Sutton's work can be found across the world, and notably in The National Portrait Gallery. Using timber, she carves large heads and figures that have a unique, grainy character. Sutton's serene work will sit peacefully in the gardens. 
Other notable sculptors that will have their work on display include Andrew Smith, David Harber, Clare Bigger and Cathryn Shilling. 
In the Stable Yard area, you will find indoor gallery spaces displaying 120 sculptures plus the brand new Ceramics at Doddington exhibition curated by Preston Fitzgerald. This featuring pieces by emerging artists as well as established names ranging from figurative and sculptural to functional items such as vases, bowls and plates. 
Curators David Waghorne and Kate McGovern have carefully selected sculptures from artists that complement each area and to provide an eclectic exhibition to suite all tastes, styles and budgets. 
"We've had some wonderful feedback from visitors, who have praised the safety measures we have in place and the one way system has proven hugely successful. Not only has it helped people stay safe, but it has also ensured that they're able to see each and every sculpture, so we plan to keep this in place in the future." Continued Claire
"We look forward to welcoming more people to Sculpture at Doddington in the coming days!"
Some of the sculptures will be leaving the exhibition before the final day, however there will be a good range on display for the last week.
From Saturday 12th September, more than 1,000 iron dragonflies will also be on display at Doddington Hall in memory of loved ones. Each dragonfly has been dedicated by a St Barnabas supporter in memory of a loved one and members of the public can visit the display until Friday 25th September, 10am to 4pm.
Booking tickets in advance for Sculpture at Doddington is advised. Normal garden entry applies, so there is no additional charge for the exhibition. Adult tickets costing £7.50 and children (4-16 years) costing £3.50. Children under 4 years can enter for free. Family tickets are also available for two adults and four children, costing £19. Last admission is 3pm.
Tickets are still available at doddingtonhall.com