destinations
Gainsborough
one of the county's larger market towns with fantastic medieval heritage
In the district of West Lindsey, just a 30-minute drive from Lincoln on the westerly edge of Lincolnshire, bordered by the River Trent lies the historic market town of Gainsborough. Home to one of the UK's best-preserved manor houses, Gainsborough Old Hall - a must-see for lovers of historic buildings.
historic buildings
Gainsborough Old Hall
Discover well-preserved original features at Gainsborough Old Hall including the impressive medieval kitchen, huge fireplace and great hall with intricate wooden ceiling.
shopping
Marshall's Yard
Discover this outdoor shopping centre located at the heart of Gainsborough Town Centre. Shop over 30 popular brands.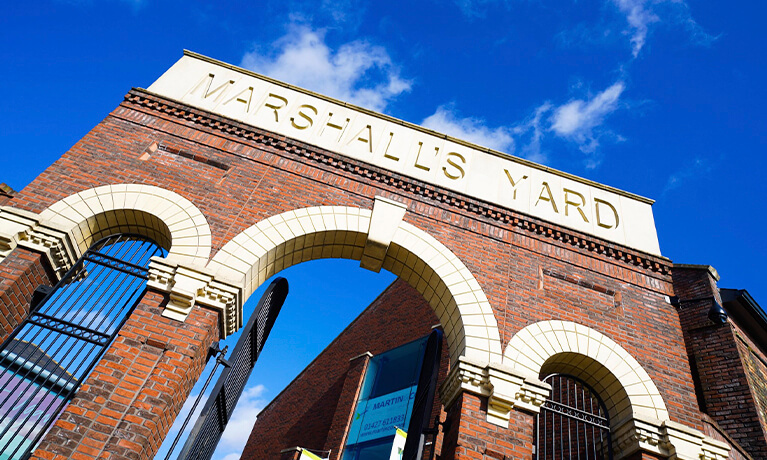 a rich and unique heritage
The Domesday Book, created in 1086, revealed that at that time Lincolnshire was England's most populous county because of Gainsborough. Its rich history since has included royal visits, hosted by Lord Burgh at Gainsborough Old Hall.
The town's history dates back as far as Ancient British and Viking times, and had great importance during the Industrial Revolution. Gainsborough was a busy inland port with warehousing, breweries and large engineering firms.
The town has a long-standing history of industry; Gainsborough was the manufacturing base of Marshall, Sons & Co.— a major boiler manufacturer founded by William Marshall in 1848. The site, now known as Marshall's Yard, is home to thirty-five stores including; an Italian restaurant, coffee shops, health club and landscaped plaza.
Walking
Gainsborough's riverside walk
Grab your walking shoes and head over to the Gainsborough's riverside walk to explore a much-welcomed and improved walkway.
Visitors can now enjoy an uninterrupted 1.7 mile stroll along the River bank from the historic Trent Bridge all the way to the picturesque village of Morton.
Nearby
Bransby Horses
Meet the horses at Bransby Horse, one of the UK's largest equine welfare charities. Dedicated to improving the lives of horses, ponies, donkeys and mules.