beautiful market town full of heritage, restaurants, cafés & places to stay
Grantham is an attractive and industrial market town that sits on the border of Lincolnshire and Nottingham. Being home to a number of Lincolnshire's incredibly picturesque historic houses, castles and buildings including Belton House and Belvoir Castle, it is well worth a visit and makes for an excellent day trip or weekend away.

Grantham began as a small Saxon village that grew into a market town during the 11th century. Grantham was recognised in the Domesday Book in 1086 with a recorded population of 183 households and in the Middle Ages, the town was successful in the wool and leather trade.

St Wulfram's Church towers over the historic town and was described by Simon Jenkins as 'the finest steeple in England'. The Angel and Royal hotel located on the High Street dates back to the 13th century and is one of the oldest coaching inns in the country. The charming property has hosted no less than seven Kings and Queens over the centuries.

In more recent history, Grantham has become well known for being the birthplace of former British Prime Minister, Margaret Thatcher but Grantham was also the birthplace for Isaac Newton who was educated at the King's School in Grantham. Isaac Newton's notorious revelation about gravity actually took place at Woolsthorpe Manor in Woolsthopre by Colsterworth - just a short distance from Grantham. Visitors can see the 400-year-old-tree where it all began. The town is also known for gingerbread biscuits, first made in 1740 by a baker, William Eggleston. Take a trip and uncover Grantham's rich heritage for yourself.
Grantham is located within easy access of the A1 and is part of the London–Edinburgh East Coast Main Line for those wishing to visit by car or train. 
Visit Belton House which was used in Pride and Prejudice, The Da Vinci Code and The Young Victoria. 
Take a tour of Belvoir Castle which has been used for the filming of The Crown and Victoria and Abdul.
Woolsthorpe Manor, birthplace of Sir Isaac Newton
Edith Smith Exhibit at Grantham Museum
Food & Drink highlights
The Green Man, Ropsley
The Green Man, Ropsley, is a gastropub that dates back to 1648 and prides itself on a great range of home-cooked country dishes, superior steaks, fresh seafood and good, honest, pub-grub.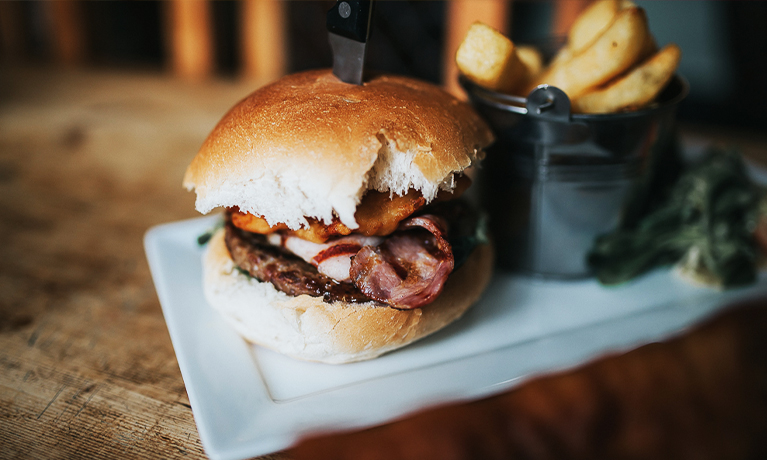 tourist information centre
Guildhall Arts Centre
Guildhall Arts Centre is a multi-purpose arts venue in the heart of Grantham. Under the beautiful Victorian clock tower, find a thriving arts venue with coffee shop and helpful staff on hand to advise and direct visitors.