Get creative with our lantern toolkit and light up our community this November.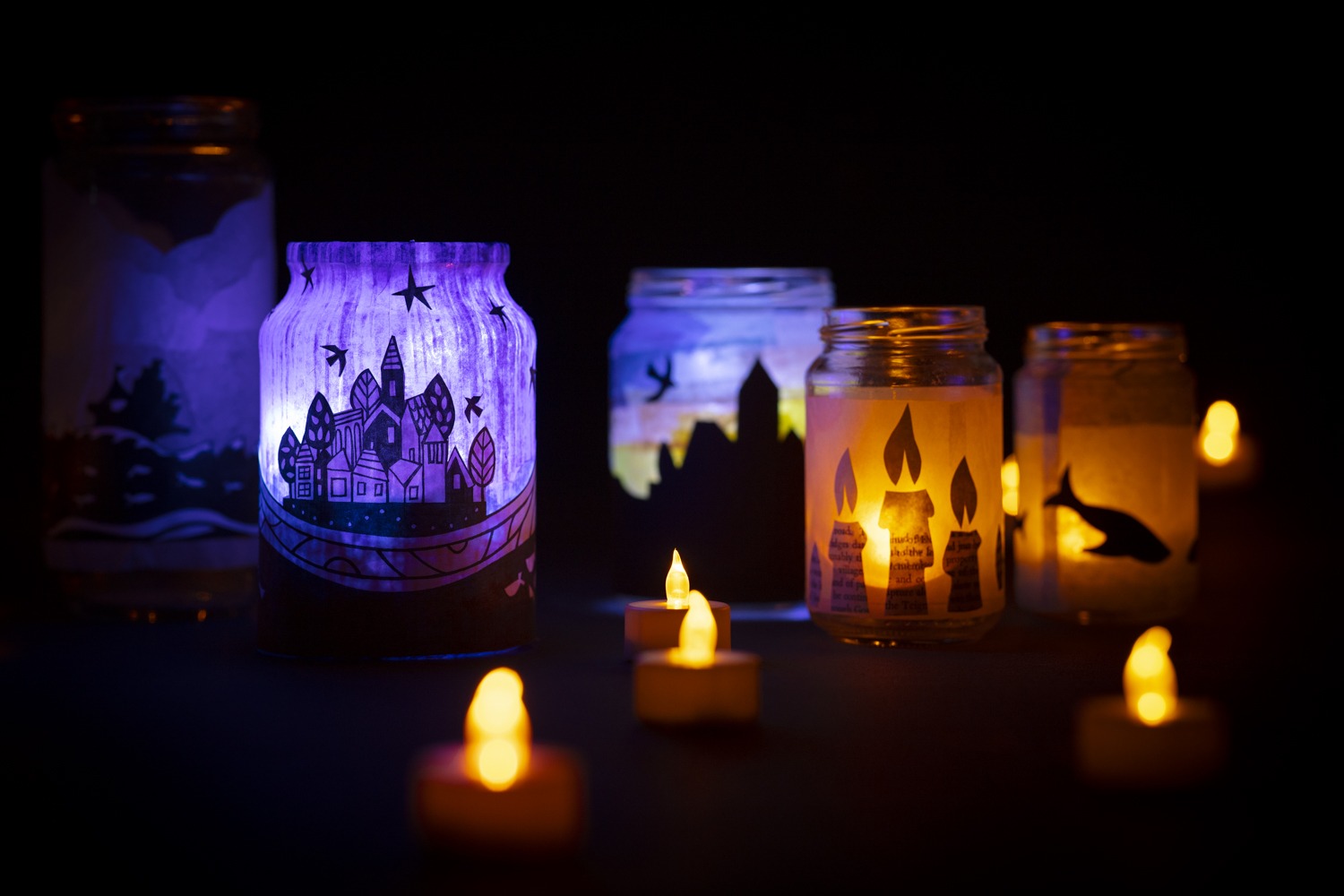 This November, Gainsborough's annual Illuminate event commemorating the town's links to the Mayflower Pilgrims' story will be a bit different, like so many other things that have changed recently. For the past three years, a fantastic parade of lanterns has taken place in town but sadly, it will not possible this year. Instead, we are inviting you to get creative at home using our specially designed toolkit full of templates, ideas and inspiration for making your own lantern.
Display your lit lantern in a window at home on the evening of Thursday 26 November (the date of Thanksgiving), and share a photo on social media tagging in #OneSmallCandle to be part of the commemorations and to join others across our region connected by a shared heritage.
Gainsborough is joining with Pilgrim Roots partners in Boston and North Nottinghamshire to mark the commemoration on the same evening, by asking people to light up their communities with lanterns displayed in windows to give thanks in our own special way for the things that are important to us – what will you give thanks for?
"We are deeply disappointed that our Illuminate parade will not take place this year." Says Anna Scott, Mayflower 400 Officer at West Lindsey District Council. "It is a highlight in our events calendar but it is important that we look after the safety of the public.
"We're delighted that we are able to carry on with our event. Although it may be a little different, we're looking forward to seeing what creations people come up with at home, bringing the community together and lighting up the streets of Gainsborough"
Cllr Judy Rainsforth, ward member for Gainsborough South West added:
"I am pleased that our Mayflower commemorations are able to continue despite the challenges of COVID-19. I hope that the residents of Gainsborough will get involved
in this creative activity at home and look forward seeing our town light up on 26 November".
The 400th anniversary of the Mayflower's voyage from England to America, which took some of the Pilgrims from our region on a historic journey, was in September. Gainsborough is part of the national Mayflower 400 programme, connecting places across the UK linked to the story, and the regional Pilgrim Roots partnership of places where many Pilgrims came from.
West Lindsey District Council are leading the 'One Small Candle' campaign for this year's Illuminate in Gainsborough as part of the town's Arts Council England-funded Mayflower 400 cultural programme. The annual commemoration is inspired by a quote from Pilgrim leader William Bradford, who wrote: "as one small candle may light a thousand, so the light here kindled hath shone unto many", reflecting on the Pilgrims' journeys and life experiences.
How to take part!
1. Make your lantern!
Take a look at some of our inspiring lantern creations, made using things you have at home. If you live in the Gainsborough area, you will receive a printed template with the free Gainsborough Life magazine to get you started.
Follow the instructions to decorate a clear jar or container, pop in an LED tealight and put it in a window on Thursday 26 November. Need some inspiration? Check out our 'how to' video below which can be found on the link above.
2. Send us a photo!
We'd love to see your creations – post a video or photo of your lantern on social media on 26th November. You can find us on Facebook , Twitter and Instagram .
3. Be part of something bigger!
Include the hashtag #OneSmallCandle with your post – and see what others have made too! How many lanterns will we be able to count on the night – 102 (the number of Mayflower passengers)? 400 (the anniversary)? 1,620 (the voyage date)? Or even… 2,020?!
West Lindsey District Council also have a series of exciting plans that will leave a lasting legacy for residents and visitors, including Rachel Carter's Pilgrim Woman statue which will be located on the riverside in Gainsborough, a special choral commission written by local composer, David Fawcett and a special edition illustrated children's book.
To find out more about Gainsborough's connections to the Mayflower story visit www.discovergainsborough.com/pilgrimroots .
For regular updates follow @Discovergains on Facebook or Instagram .
Little Explorers
Find more great things to do on family days out.