How to grow your own vegetables. Get top tips and advice on how to grow your own vegetables at home, even if you have a small garden!
Hayley Toyne, Taste Lincolnshire Project Manager shares her tips on how to grow your own vegetables at home. 
Growing my own fruit and veg has been an interest of mine for quite a few years – ever since we were lucky enough to move into a house with a little bit more garden space and an old dilapidated greenhouse.   
Over the years the veg patch has moved around the garden and the greenhouse has undergone some TLC.  We now keep chickens on the original vegetable plot (love the fresh eggs – but not so much the dawn wakeup call each and every day!) and have added a raised bed to the vegetable area and a small fruit tree section to the front of the garden.  To call it an orchard would be a stretch – it is three fruit trees… cherry, apple and fig.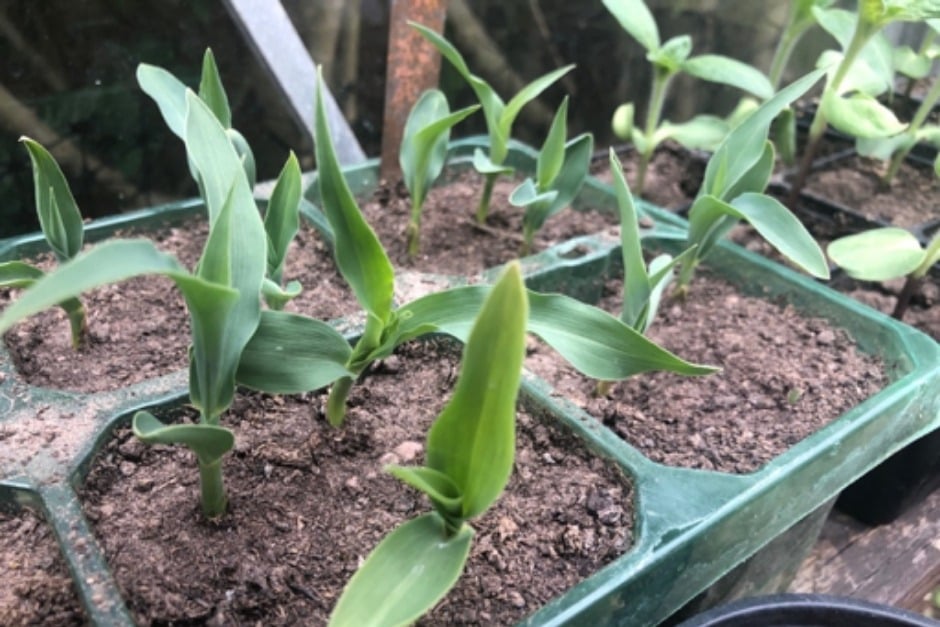 Growing Sweetcorn | Taste Lincolnshire
Our little set up as it looks now has very much been a case of trial and error, and I guess that's my starting point for this blog post.  If you are someone who likes the idea of growing a few vegetable plants, perhaps some salad leaves, but feels a little out of their depth or not knowing where to start – my advice would be simply to go for it.  Over the years we've had successes, and we have also had a whole bunch of failures – and you know the worst thing that happened?  Things didn't grow.  That's it!  So, I've moved things around, changed what we grow and where we grow it – and sometimes we get quite a nice crop! 
Now more than ever, as we spend more time at home and if we are lucky, in gardens, there's a real interest in growing and eating your own produce.  There's nothing quite like it, and it certainly makes you value the food on your plate if you know how much effort has been put into growing it.   I am currently in GYO overdrive – if you can fill something with compost – I probably have and have scattered a few seeds in there too.   We have our regular old favourites – tomatoes, radish, sweetcorn, lettuce, strawberry, courgette.  These are crops that we'll eat day in day out come the summer, real family feeders.  Additionally, I'm experimenting this year with a lot more herbs – so we have basil, thyme, coriander, oregano and parsley to supplement our ever-rampant mint.  All of the these I've mentioned so far have been grown from seed – but in a couple of weeks when I've mustered the enthusiasm to weed the other beds, we'll add ready grown young vegetable plants to the mix too – and add a few brassica and beans such as purple sprouting broccoli and runner beans.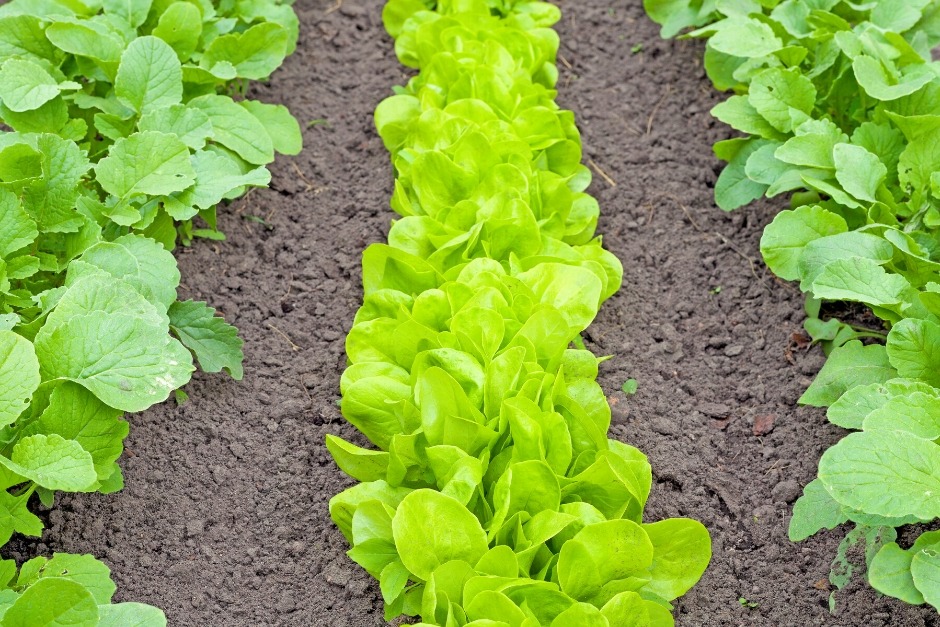 Growing Salad | Taste Lincolnshire
My advice would be to grow what you love to eat.  Even with the most organised forward planning and staggered sowing (I fail at this each and every year!) you will no doubt get a glut of something.  All your lettuces will come at once, you'll harvest bowls of tomatoes, and pick colanders of cherries in one go so the birds don't get to enjoy the fruits of your labour.  There is only so much freezing, gifting and swapping with neighbours one person can do!  Enjoy what you grow, and you'll never tire of it.  Plus you'll be more invested and motivated to care for it up until harvest time. 
Returning to my main tip though and something that I cannot stress enough – is just go for it.  Whether you have a dedicated plot for growing or can simply squeeze a few pots on a patio or balcony.  Go for it.  As the soil starts to warm up as we move into May many seeds can be sown directly outside.  Find a sunny spot, sift some soil / compost, scatter and cover a few seeds or transplant a few plug plants and remember to water.  Good things will come! 
Here are a few tips to help you grow your own vegetables
Be ruthless

.


Thin lettuce and radish after a few weeks.

I used to find this heart breaking, but y

ou'll get stronger bigger plants with more room to grow.

 

Be flexible.


Come the summer, adapt your meals to make best use of what 

is r

eady to pick.

 

Be patient

.
Don't lose the faith – those sweetcorn seeds that seemed to lie dormant for weeks doing nothing are busy doing their stuff underneath the soil.  Once they start to grow, you'll be amazed how quickly they shoot up.

 

Enjoy it.


Once you start to GYO you won't look back.  

If you have small kids they'll love getting involved too.  Seek out and connect with likeminded 

GYO'ers

– share your experience and spread the love.  It's a great way to start a conversation…
And don't forget to share your GYO news with us at @TasteLincs  
Hayley – Taste Lincolnshire