When it comes to days out and exploring the outdoors, there really is something for everyone in Lincolnshire. 
Lincolnshire is known for its beautiful open spaces so there are lots of great places for you to take in the natural landscape and get active outdoors.
Whether you're an adrenaline junkie looking for an adventurous activity, or a culture vulture on the lookout for new experiences, you'll be sure to find boundless ideas for outdoor exploring and keeping active. From trekking along the coast on horseback, tracking wildlife in secluded reserves, peddling along country paths, or zipping through woodlands, life is full of adventure in Lincolnshire.
However you choose to spend your days outdoors in the county, we've collected all the inspiration you need to make an active adventure memorable at every moment.
With rolling hills and lush green forests, unique follies, and nature reserves to explore, you'll be spoilt for choice when it comes to deciding the best picnic spot in Lincolnshire's vast countryside. Pack up a scrumptious lunch featuring Lincolnshire sausage rolls, plum bread and poacher cheese, grab your camera and plan a route in the Wolds or Fens trailing along paths laced with history and splendour.  
Walk, cycle, scoot, or ride on horseback along the old ancient Horncastle Canal following The Spa Trail. This 3-mile long flat-surfaced bridleway heading towards Woodhall Spa is adorned with public art sculptures and refreshing local history.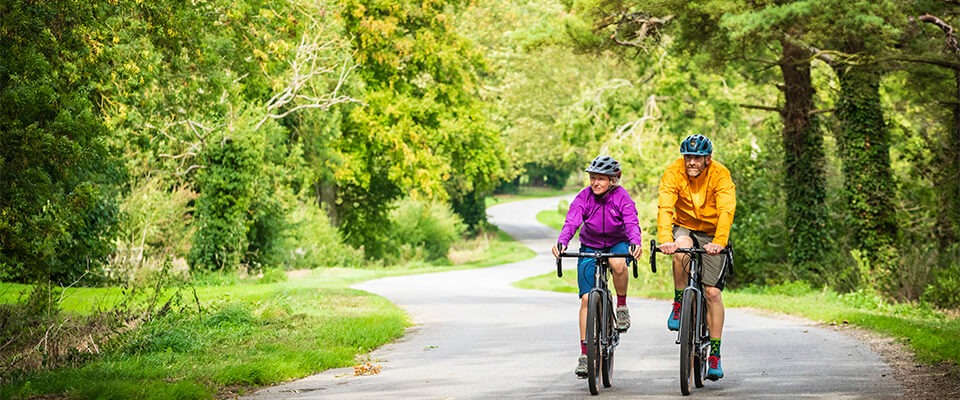 Choose a greener, cleaner way to explore Lincolnshire, on an active eco-adventure. Whether you're exploring the waterways by Kayak, paddleboarding along Lincolnshire's vast coastline or traversing the canal paths and market towns by bike, travelling sustainably can be an exhilarating way to see a different side of the county.  
If speed is your thing, combine velocity with fresh air and freedom on two wheels. Discover cycle paths full of adventure that cover everything from forest rides to canal towpaths and traffic-free trails taking you between quaint market towns.
Road, mountain, and e-bikes can be hired across the county for you to use at your leisure. Look out for the many cycle-friendly coffee stops, pubs, and restaurants en route: more information on cycling through Lincolnshire is available on Visit Lincolnshire's cycling pages on their website.
Days out along the Lincolnshire coast and canals are striking at any time of year, especially experienced on the water. Exploring by paddleboard not only lightens your carbon footprint, but lets you enjoy your surroundings with more opportunities to spy the birds, plants and marine species that live and thrive in Lincolnshire.
Ride the waves on a guided SUP (stand-up paddleboarding) tour, hire a Kayak in Cleethorpes or get on the water a little more inland at one of the county's waterparks. For the 'go faster' thrill seekers – wakeboarding, jet skiing and soaking wet fun jumping around the inflated aquaparks awaits.
Set your pulse racing with an extreme pursuit swinging like Tarzan and Jane through Lincolnshire's treetops. Head to Market Rasen to discover one of the largest rope courses and outdoor adventure parks in the UK with challenging and exciting activities suited to all ages.
Here is something more for the adrenaline junkies. Jump 15,000 feet above the North Lincolnshire countryside for a high adrenaline adventure that you won't forget in a hurry at the UK's highest skydiving experience at Hibaldstow. A combination of sensations just can't be matched on any other outdoor activities; the excitement of the jump, up to 60 seconds of free fall, and the post jump jubilations – it'll leave you wanting more.
If you like to explore with your feet firmly on the ground, soak up the culture of the city and curiously trail through quintessential market towns uncovering treasures about the county's past and present. Lincolnshire's urban spaces are full of exhilarating ways to enjoy the great outdoors, packed full of wonder and tea rooms along the route.
Follow the yellow umbrellas and walk the streets to unwind and explore Britain's Best Small City on a free walking tour around Lincoln, or be expertly guided through the stunning Georgian architecture in Stamford – one of the finest stone towns in England.
End your adventurous holiday in Lincolnshire in leisure and luxury. Dust off your clubs and putt around a green with enchanting backdrops and stunning landscape surrounds at some of the finest championship golf courses in the UK. All immaculately maintained and unique in their own way, Lincolnshire's golf courses offer variety for every driving ability and a great experience to add to your active holiday.
In a county of contrasts with so much to see and do, we hope to have inspired you to get outdoors and enjoy an active adventure in Lincolnshire.