The delicate white blooms of snowdrops bring joy to the winter months and mark the first signs of spring. They are a sure sign that warmer weather is on its way; the first green shoots poking their tips above ground before blooming into carpets of beautiful white.
Look closely, and you'll soon see the pale sunshine shade of primrose and the vibrant pinks and purples of crocus as the season progresses before the daffodils make their first appearance.
As the new season is upon us, it's the perfect time to get outdoors and explore the many heritage sites, castles and stately homes across Lincolnshire, where their head gardeners have been busy manicuring and cultivating these spectacular snowdrop displays for thousands of years.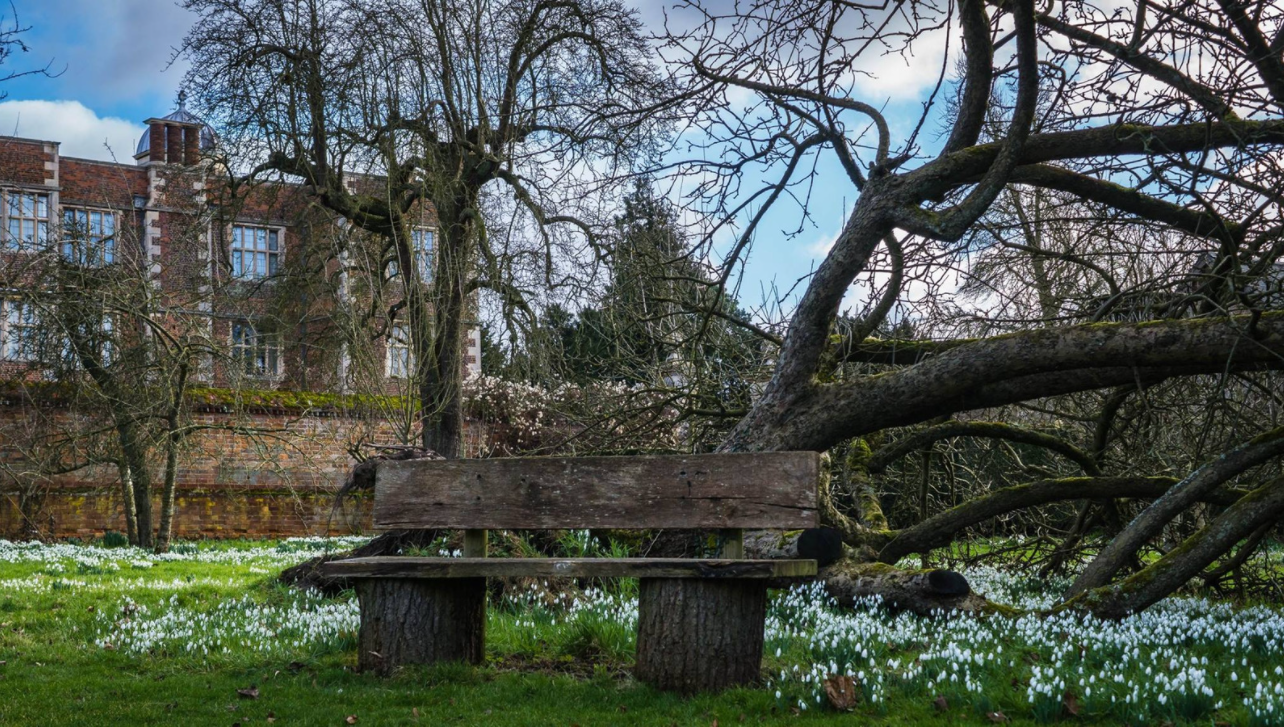 Snowdrops at Doddington Hall
Where and when to see snowdrops in Lincolnshire
Here is a guide to where and when you can see snowdrops across Lincolnshire and plan a visit to some of the county's magnificent heritage gardens, country parks and woodlands.
See more than 20,000 snowdrops in drifts throughout the Pleasure Gardens and around the Gothic ruin at Belton House. Located new Grantham, Belton House is a Grade I listed National Trust country house, with 1300 acres to explore. With wild ancient wooded parklands, spring is the best time of year for birdwatching and walking amongst the spring flowers.
Book tickets to guided walks around Belton House here.
Enjoy a wintery walk in the Belvoir Estate, the ancestral home of the Duke of Rutland – one of the UK's finest Regency castles. At the end of winter, Belvoir opens its beautiful gardens in time for you to enjoy the snowdrops and wildlife that starts to appear. With over 16,000 acres to discover, you'll be spoilt for choice trailing along Spiral Walk, Duke's Walk, visiting Hermit's Garden, the Japanese Woodland and much more.
Book your garden entry to Belvoir Castle here.
Walk amongst 250 different varieties of snowdrops at Burghley House, one of the largest surviving Sixteenth century houses. Tickets are available for exclusive tours of the South Gardens and Sculpture Garden with Head Gardener Joe Whitehead to wander through snowdrops from 16 – 23 Feb.
Book your tickets for a tour of the gardens here.
From 6 February to 30 March, join Doddington Hall for their spring bulb pageant and discover the beautifully manicured gardens within the Elizabethan estate. As well as snowdrops, you'll get to see wonderful Cyclamen and Crocus as they start to bloom before the arrival of Lent lilies and their unique collection of heritage daffodils, winter aconites and snake's head fritillaries.
Book your tickets to the Spring Bulb Pageant here.
Wander through the 400-year-old gardens illuminated with white woodland carpets at Easton Walled Gardens, one of the UK's finest walled gardens set. in the heart of middle England. Open for the season from 11 February, enjoy the start of spring experiencing the beautiful display of snowdrops spread across two banks by the river.
Plan your visit to Easton Walled Gardens here.
The beautiful park and gardens come to life at this time of year, with swathes of white and green at Elsham Gardens. The magnificent 4 acre site, which has been exciting re-landscaped, now featuring a sensory garden and a 'one world' area, a variety of sculptures and, of course, gorgeous drifts of snowdrops throughout February and March. 
Book your tickets to Elshall Gardens & Country Park here.
The gardens at Gunby Hall offer something of interest all year round, from wildflower areas, wide open lawns to sheltered walled corners. From 14 to 18 February, you can enjoy guided walks through the gardens and grounds to find the best sports where snowdrops are blooming.
Book a guided snowdrop walk at Gunby gardens here.
Enjoy a day out counting snowdrops around the 300-acre estate at Normanby Hall Country Park. A perfect family-friendly day out in an idyllic regency mansion, with a Victorian Walled Garden, Secret Garden and Sunken Garden to explore. Within the site too, you can discover new heights and swing through trees on a Go Ape Adventure, and get a birdseye glimpse of the flora and fauna below.
Plan your visit to Normanby Hall here.
Walled Garden Baumber is an innovative and exciting garden, full of hidden surprises. The 19th Century double walled garden is lined with snowdrops throughout February and March. The gardens are free to visit and open 5 days a week all year round for you to enjoy.
Plan your visit to Walled Garden Baumber here.