A circular walk through the Lincolnshire Limewoods area passing medieval earthworks and close to Wickenby Wood, part of the Bardney Limewoods National Nature Reserve.
Starting point
Memorial Hall
High Street
Faldingworth
LN8 3SE
Grid reference TF 067 847
Linked to Public Transport
Dog Friendly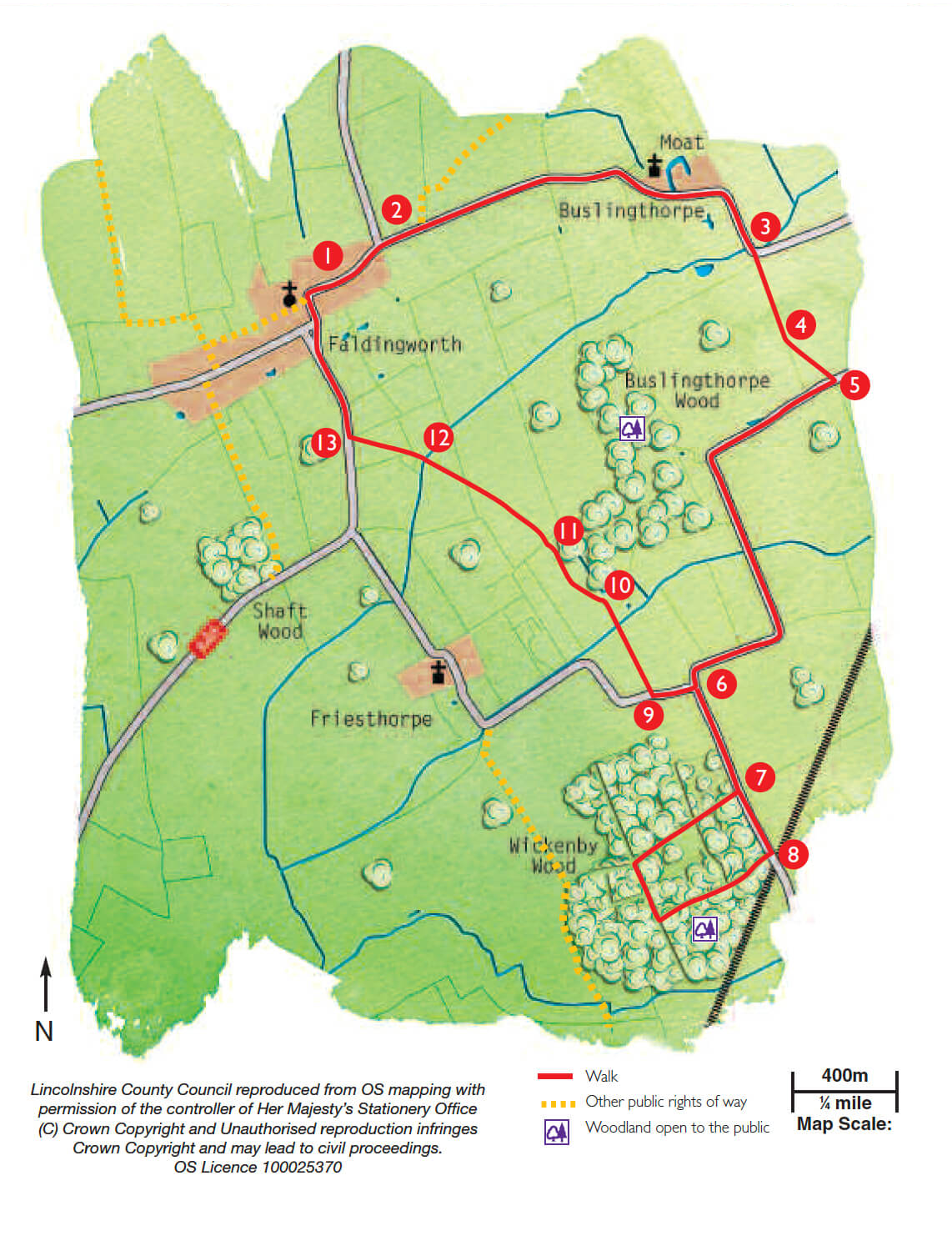 1With your back to the Memorial Hall turn right.
2After approximately 250m leave the main road and follow Buslingthorpe Road straight ahead. Follow the road through Buslingthorpe and past the church and Manor. Continue along the road.
3Where the road bends sharp left walk straight ahead along a public footpath.
4At the top of the slope, and at a waymarker post, turn left into the field then bear right and walk towards the lone cottage.
5At the road turn right. Follow the road for approximately one mile (1.5 kilometres) to a junction.
6Turn right and join the directions at 9.
9Approximately 150m after the junction turn right onto a public footpath. Follow the path ahead beside the ditch to a hedge and bridge. Cross the bridge and bear slightly right across the next field to the corner of the woodland and fingerpost.
10Bear slightly left across the field heading to the gap in the hedge at the top of the field.
11Bear slightly left across the next field to a gap in the hedge. Continue in the same direction across the next field to the right hand corner of the sewage works compound.
12Cross the bridge and follow the track for approximately 50m before turning right over a small bridge. Bear left across the field to the road.
13Turn right and follow the roadside path into Faldingworth.
This walk uses field paths, tracks and quiet roads. There are no stiles and you are unlikely to encounter livestock.