Ancaster is steeped in history and there is evidence of a prehistoric settlement. It is probably best known as a site of a Roman Town. There is a choice of three circular walks in and around Ancaster and Sudbrook using field paths, tracks and quiet lanes. This route is shown in purple on the map.
Starting point
Playing field and Social Club car park
off Ermine Street
Ancaster
Grid reference SK 984 439
Linked to Public Transport
Refreshments
Dog Friendly
SCENIC, TRAFFIC-FREE ROUTE THROUGH BEAUTIFUL WOODLAND AND ROLLING COUNTRYSIDE
This walk is set in the attractive countryside around the historic town of Ancaster.
The town has a long and important history dating from the prehistoric period. An Iron Age settlement developed into an important Roman town on Ermine Street, the Roman road linking London, Lincoln and the Humber. Ancaster sits on the County's limestone backbone, known as the Lincolnshire Edge. Limestone has long been quarried in the local area and the stone, known as Ancaster stone, widely used for building and carving, including at Belton House and Lincoln cathedral. Look out for the Roman trail signs around the town which describe points of interest, including the statue of the three goddesses on the church wall.
The area behind the small housing development (near point 3 on the map) is the site of a Roman fort, which is a legally protected archaeological site. The fort represents the earliest Roman occupation in Ancaster.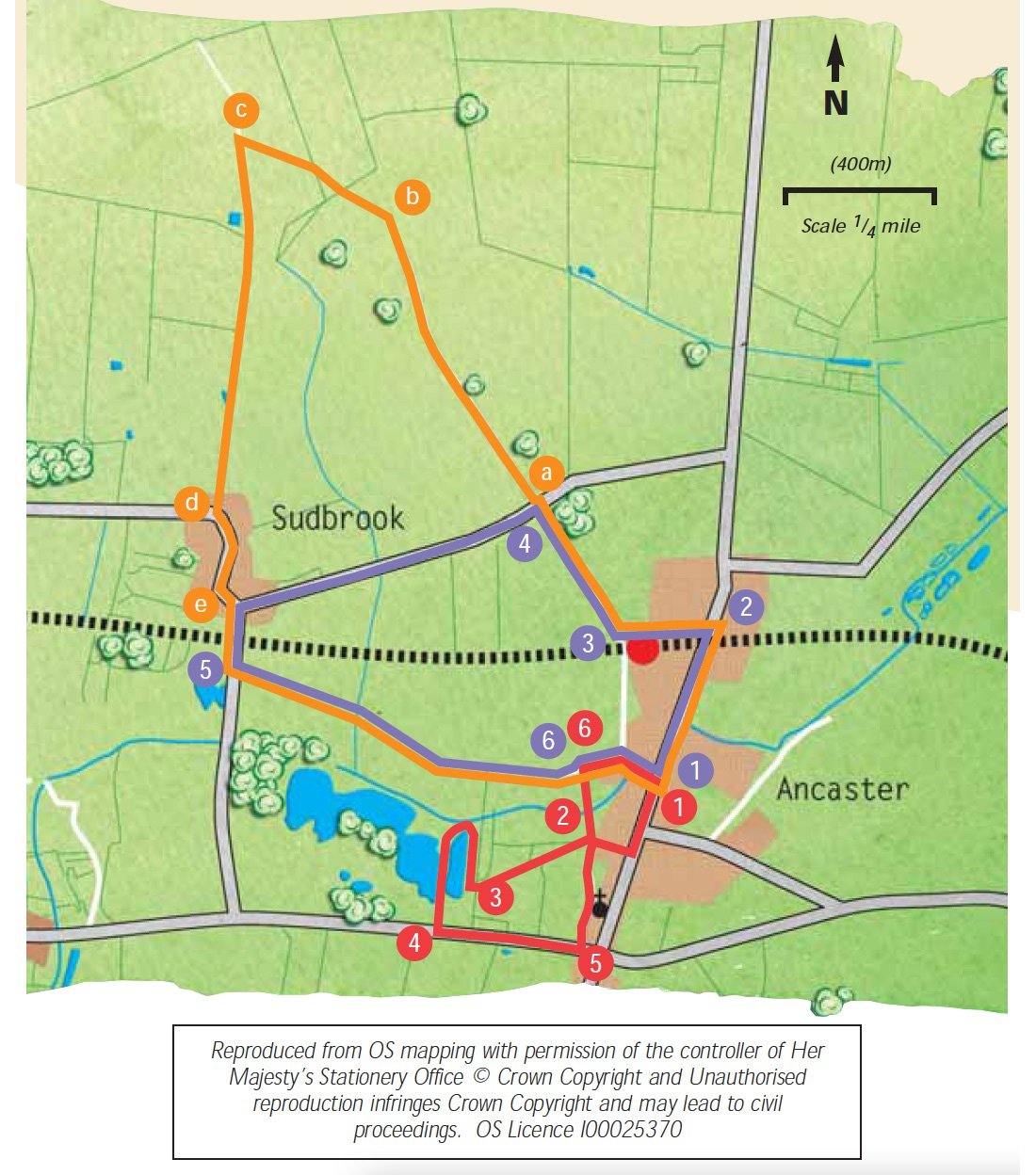 1Leave the car park and turn right through the village along Ermine Street for about 800m, and under the railway bridge.
2Turn left immediately after the bridge and follow the lane up the side of the Railway Inn and past the railway halt.
3At the level-crossing turn right. Climb the hill to a junction. Turn round to admire the views over Ancaster village and beyond.
4Turn left and follow the road into Sudbrook. At the junction with a grass triangle turn left into Rookery Lane.
5Cross the level-crossing, then take the public footpath on the left into a large field known as The Sands. Follow the wide path across the field and then onto a track. To the right is Moor Closes Nature Reserve with views of the church beyond.
6Continue to the Old School and at the junction turn right. At the junction with Ermine Street turn right to return to the starting point.
There are no stiles and you are unlikely to encounter livestock.
The railway line is crossed once at a level crossing.