The pretty village of Fulbeck is a great place to walk. This circular route will take you through the village.
Starting point
Sports field car park (A607)
Opposite the church
NG32 3JP
Grid reference SK 949 504
Parking
Linked to Public Transport
Refreshments
Dog Friendly
This walk is set around the attractive village of Fulbeck, one of a string of spring-line villages along the western edge of the Lincolnshire Cliff. In fine weather there are stunning views of the countryside, up and down the escarpment and across the Trent Valley to the rolling landscape of east Nottinghamshire.
Recorded in the Domesday Book as 'Fulebec', the village takes its name from the Old English 'ful' and Old Scandinavian 'bekkr' – the combined word meaning 'foul stream'! Fulbeck is tucked away from the main road connecting Lincoln and Grantham, and has a charm all of its own which is best appreciated on foot. There are some fine 18th century stone houses, and dominating the village is Fulbeck Hall, home of the Fane family from 1632 to 2000. Much altered after a fire in 1733, the Hall became the headquarters of the First Airborne Division in 1943. It was here that Operation Market Garden was planned that resulted in the famous battle at Arnhem in 1944.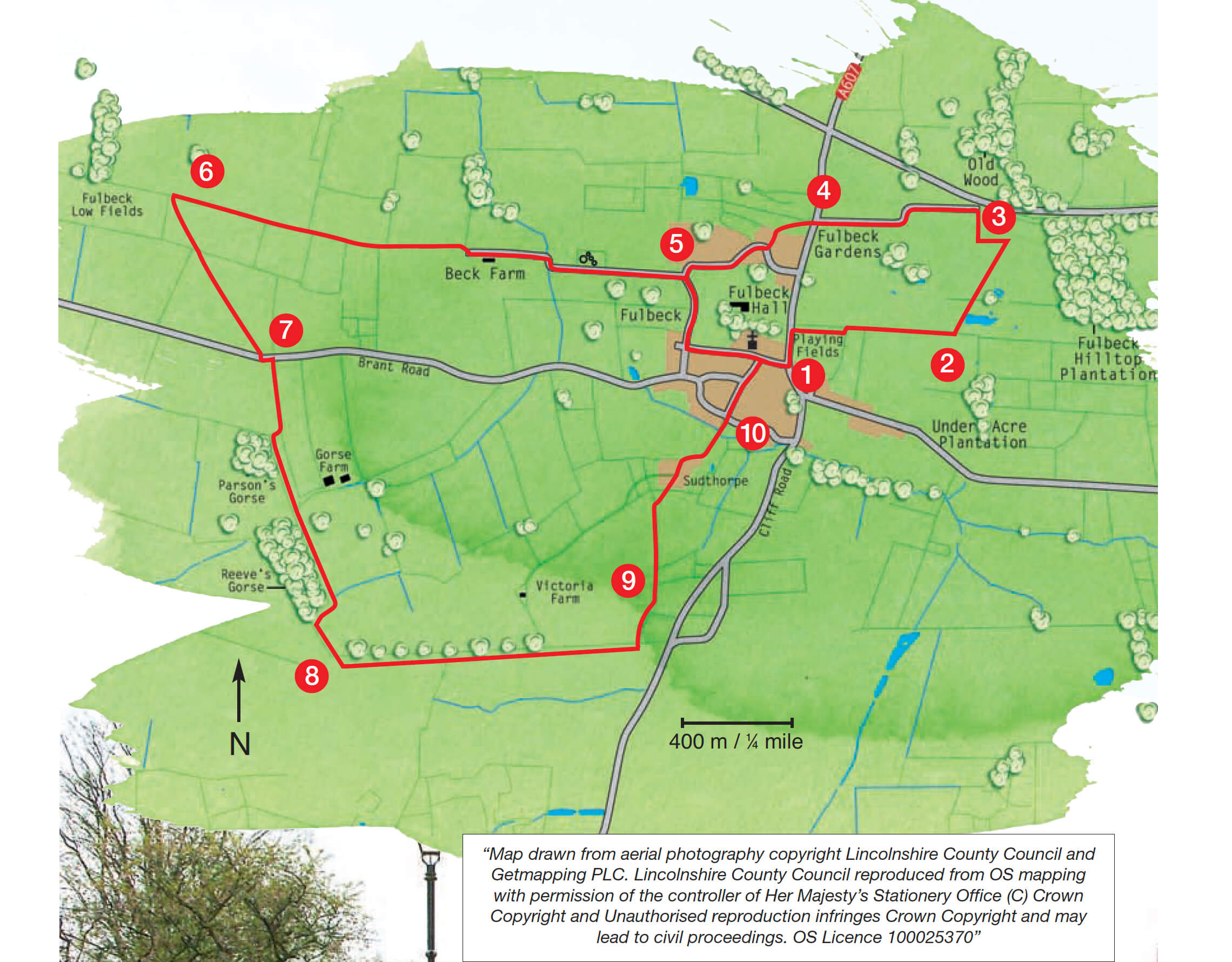 1Leave the car park and turn right along the main road. After approximately 30m turn right through a gap in a wall and follow the public footpath along the edge of the playing field. At the corner of the playing field go over a stile, and continue on in the same direction with the hedge now on your right.
2At the end of the field go through two gates, crossing a track which was once the Honington railway line, and then bear diagonally left across the field towards a telegraph pole and way marker post.
3Bear right across the field to a waymarker post to the left of an old oak tree. Turn left and walk beside the old hedge to another waymarker post close to the corner of the substation fence. Turn right along the bridleway beside the fence to a gate and road. Turn left on to North Heath Lane. Walk along the lane to the junction with the A607, crossing the disused railway line again.
4Cross the main road with extreme care and go through the gate opposite. Bear diagonally left towards the houses, reaching another gate and tarmac road. Turn right after 100m and walk down the road to the bottom of the hill.
5Bear left at the bottom of the hill along Bulby Lane. At the crossroads turn left to go up Rectory Lane. Continue straight on, passing the Hare and Hounds pub, until you reach the main road and the car park.
The walk uses field paths, tracks and minor roads. There are stiles and you are likely to encounter livestock.