Ruskington Two Dorrington Walk
Ruskington is one of Lincolnshire'slargest villages and has a large stream known as The Beck running through its centre. The place name Ruskington is derived from the Old English 'riscen' meaning 'rushy, growing with rushes' and 'tun' meaning 'a farmstead, village'. The '-sk-' is due to Scandinavian influence.
All Saints' church dates to the twelfth century with thirteenth and fifteenth century additions and alterations. Some of the stained glass dates to the fourteenth century. The tower was restored in 1620 following the collapse of the spire and the whole church restored and the chancel rebuilt in 1885. These walks offer the opportunity to explore the village and the surrounding countryside

Walk location: Ruskington lies 30 km (19 miles) south-east of Lincoln and 6 ½ km (4 miles) north of Sleaford.
Starting point: All Saints' church at the junction of Church Street and High Street North, Ruskington. Grid reference: TF 082 510
Parking
Linked to Public Transport
Refreshments
Dog Friendly
The landscape of this walk is quite different from the Hurn Pastures walk, with more hedgerows and smaller fields.
The Dorrington Demons sculpture on the village green recalls the story of local demons outwitting a Saxon warrior by carrying away the foundation stones of a new church planned on this site to the top of the hill where the church stands today. The remains of a medieval village cross can be seen in the garden opposite the green.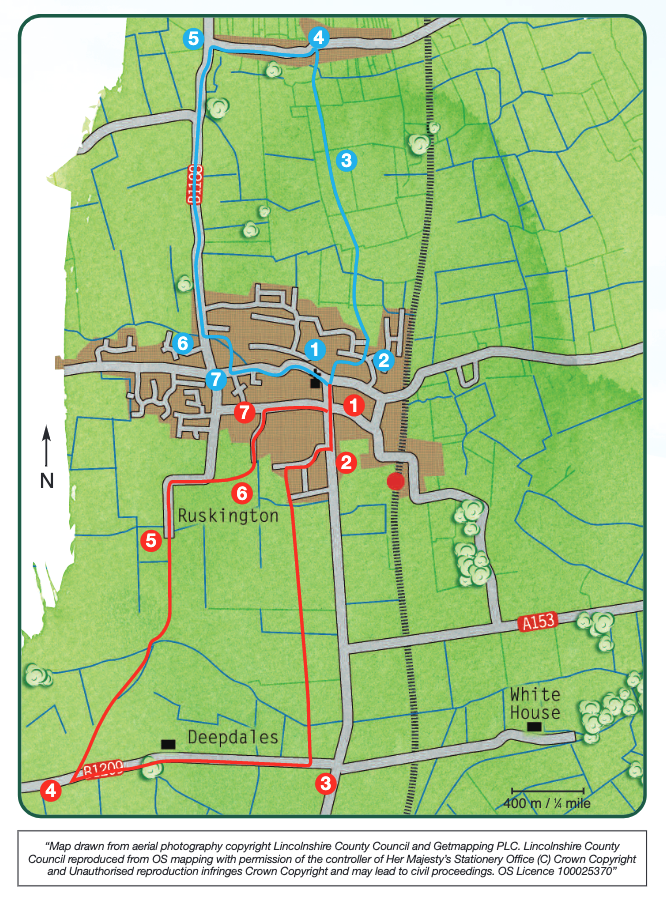 1Take the footpath off Manor Street opposite the church gate and next to the Reading Room. Follow this path to Pinfold Way, between rows of bungalows.
2Turn right and then after a short distance turn left along a public footpath, cross a road and then walk through the playing field's car park and across the end of the first playing field. Bear left and follow the footpath in the same direction alongside the hedge to the field corner. Walk straight on across the next field to a bridge. Again walk straight on across the next field.
3At the edge of the field and at a drain the footpath divides into two. Take the left-hand path and walk across the fields following the line of the telegraph poles. Bear slightly left across the next fields to a bridge in the hedge. Continue straight on to a road and Dorrington village green.
4Turn left along the Main Street to the junction with the Lincoln to Sleaford Road.
5Turn left and walk along the roadside path to Ruskington, approximately 1 ½ km (1 mile).
6Once in the village, pass two roads on the left before turning left along a footpath next to the telephone box to enter an open area known as Horseshoe Hollow. Walk diagonally right across the open area and over a bridge to join Manor Street.
7Turn left and walk back to the church.
The walk uses pavements and field paths. You may encounter stiles. You are unlikely to encounter livestock.