Ruskington Two Hurn Pastures Walk
Ruskington is one of Lincolnshire'slargest villages and has a large stream known as The Beck running through its centre. The place name Ruskington is derived from the Old English 'riscen' meaning 'rushy, growing with rushes' and 'tun' meaning 'a farmstead, village'. The '-sk-' is due to Scandinavian influence.
All Saints' church dates to the twelfth century with thirteenth and fifteenth century additions and alterations. Some of the stained glass dates to the fourteenth century. The tower was restored in 1620 following the collapse of the spire and the whole church restored and the chancel rebuilt in 1885. These walks offer the opportunity to explore the village and the surrounding countryside

Walk location: Ruskington lies 30 km (19 miles) south-east of Lincoln and 6 ½ km (4 miles) north of Sleaford.
Starting point: All Saints' church at the junction of Church Street and High Street North, Ruskington. Grid reference: TF 082 510
Parking
Linked to Public Transport
Refreshments
Dog Friendly
The walk crosses the line of Mareham Lane Roman road in an area of intensive prehistoric (Iron Age) and Romano-British occupation.
In a mainly open agricultural landscape these hedges and trees are an important habitat for wildlife. Look out for the variety of shrub and tree species including blackthorn, hawthorn, elder, hazel, guilder rose and field maple. In spring you may even see bluebells.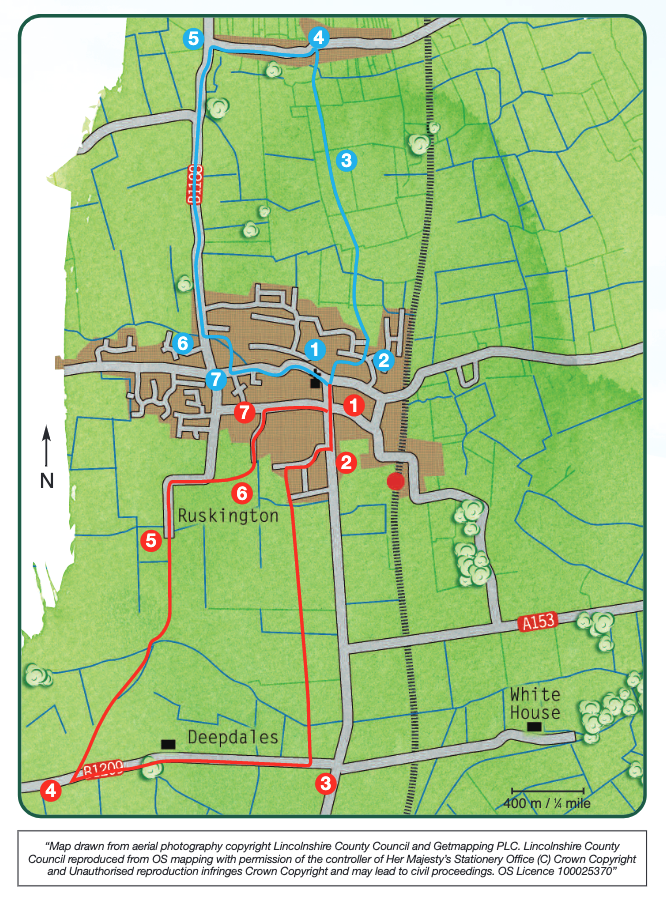 1Facing All Saints' church gate, turn left along Church Street to a crossroads. Continue straight on along Sleaford Road.
2Turnright along Elmtree Road and after approximately 250m turn left onto a public footpath. Follow the footpath through some housing, across a road and over a bridge. Continue walking in the same direction for approximately 1 ½ km (1 mile) across a number of fields to a road.
3Turn right, towards Leasingham, and walk along the road for approximately 1 ¼ km (3⁄4 mile) to a green lane on the right. (Take care along this road especially on the bends and blind summits).
4Turn right and continue down the green lane which passes between two hedges to a bridge. Cross the bridge, turn right and follow the track as it bends to the left and then continues between two hedges again. Follow the track to join a lane.
5Walk straight on along the lane and follow it as it bends right then left.
6Immediately after the left bend take the public footpath on the right, between a fence and hedge, and then along the field edge to a bridge.
7Cross the bridge, turn left, to a road. Turn right and immediately left onto Elmtree Road and walk to the T-junction. At the junction turn right along Rectory Road, to a crossroads and turn left to return to the church.
The walk uses pavements, roads, field paths and tracks. There is a 0.75 mile section of road walking. There are no stiles or livestock.