This walk explores the village of Wrangle and the surrounding countryside. Mostly level walking it may be muddy and uneven in places. Wrangle is situated on the A52 between Skegness and Boston.
Starting point
Parish Hall
Church Lane
Boston
PE22 9EL
Grid ref: TF424 509
Linked to Public Transport
Refreshments
Dog Friendly
The name Wrangle is first mentioned in the Domesday Book and originates from the Old English meaning
'Crooked place' which could refer to a winding stream. A large creek once ran within half a mile of the church and this may be the origin of the village name.
Wrangle is close to The Wash coast and in the past would have been even closer. The building of successive sea banks means there is now more land between the sea and the village. This land is very fertile and used to grow a variety of vegetables.
The Wash is an embayment of the North Sea with five rivers flowing into it, the Steeping, Witham, Welland, Nene and Ouse. The vast tidal marshes and mudflats provide food for a variety of wildfowl, and The Wash is a great place for bird watching
Parts of the church date back to the 13th century including the archway over the south door. However most of the church was built in the 14th and 15th centuries. There are a number of unusual and grotesque gargoyles and heads decorating the exterior. In the church yard there is a sundial erected in 1826 on a fragment of ornate medieval cross shaft, a selection of wildflowers and some attractive mature trees.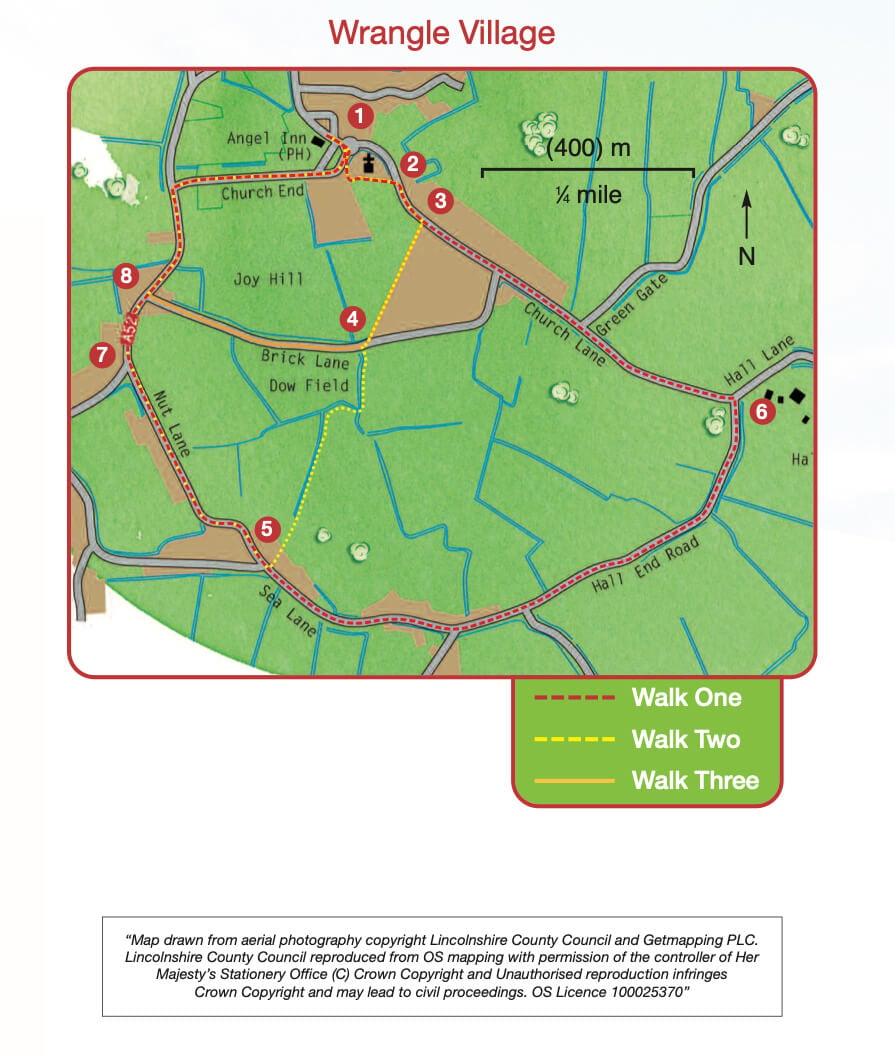 1From the Parish Hall turn left and bear right in front of the War Memorial. Turn left along the signed footpath through the church yard.
2Leave the church yard and turn right.
3After approximately 80m turn right along the footpath between a house and a bungalow. Follow this path to a road, Brick Lane.
4Cross the road and continue along the footpath. Cross the bridge, turn right and follow the field edge to the poplar trees and a road, Nut Lane.
5Turn left and at the next junction turn left onto Sea Lane, walk past the old smithy and at the junction and grass triangle turn left along Hall End Road.
6After approximately 500m at Wrangle Hall turn left along Church Lane and follow it back to the Parish Hall.
The walk uses pavements, roads and field paths. There are no stiles and you are unlikely to encounter livestock.