North Somercotes Church Walk
These walks are set around the village of North Somercotes and the surrounding countryside.North Somercotes lies in the Lincolnshire coastal plain known as the outmarsh. During the 12th century this section of the coastline was several miles further inland then it is today and North Somercotes is one of a line of villages that sit along what was once the sea bank. Settlers slowly drained and reclaimed the land and during the medieval period the rich pasture was used to fatten livestock.The North Somercotes History Group is a good source of further information and can be found on Facebook.
The North Somercotes walks can be linked together to form longer walks to take in village and countryside.
Starting point: Village Hall, Keeling Street, North Somercotes, LN11 7QU
Parking
Linked to Public Transport
Dog Friendly
The Church of St. Mary's can be more closely inspected if you carry on about 100m. The Church of St. Mary's was mainly built in the 1200s. The font is very interesting for its illustrations of Christ rising from the tomb and the symbols of his crucifixion. From the church-yard looking south-west you can see the graceful spire of St. Peter's at South Somercotes (redundant since 1988).
Almost due south the church of St. Botolph, Skidbrooke (also redundant) lies in isolation in the fields. North Somercotes village is across the fields to the north and probably relocated there 300 years or so after the village was recorded in the Domesday Book.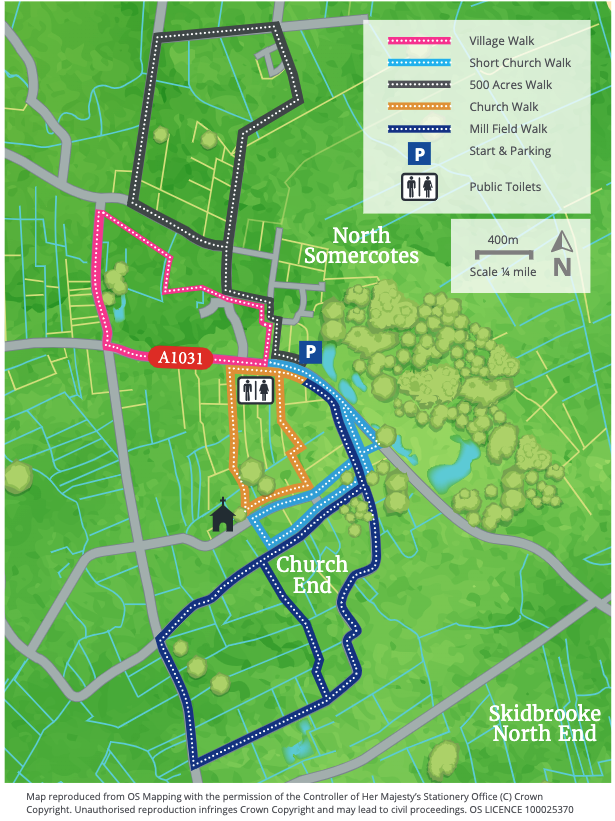 1Walk towards the village centre and at the War Memorial cross the road and take the footpath opposite. Follow the waymarked path straight on through several fields. Cross the dyke, turn right and then follow the path left between a fence and hedges to the road at Church End.
2Turn right and follow the road towards the church. Turn right along the footpath about mid-point along the field before the church.
3Continue straight across the three bridges and fields to cross the village playing field past the public toilets, to the road.
4Turn right onto Keeling Street and follow it to the Village Hall.
The walk uses roadside paths, quiet roads and field paths. There are no stiles. You may encounter livestock.