North Somercotes Mill Field Walk One
These walks are set around the village of North Somercotes and the surrounding countryside.North Somercotes lies in the Lincolnshire coastal plain known as the outmarsh. During the 12th century this section of the coastline was several miles further inland then it is today and North Somercotes is one of a line of villages that sit along what was once the sea bank. Settlers slowly drained and reclaimed the land and during the medieval period the rich pasture was used to fatten livestock.The North Somercotes History Group is a good source of further information and can be found on Facebook.
The North Somercotes walks can be linked together to form longer walks to take in village and countryside.
Starting point: Village Hall, Keeling Street, North Somercotes, LN11 7QU
Parking
Linked to Public Transport
Dog Friendly
In the distance over to the left you can see the Forest which was set in the Warren in the 1960s shortly after the East Coast Floods in 1953.
The Warren which had previously been farmed for conies (rabbits), was developed to provide sand and gravel early last century and the ponds that remain are used for both private and public fishing.
As you follow the bridleway you will pass hummocky fields - the remains of early salterns developed around Mare Haven which became silted up around 1200. To the distant left you may see something of the back of 'Locksley Hall' popularly associated with the Locksley Hall of Tennyson's poem.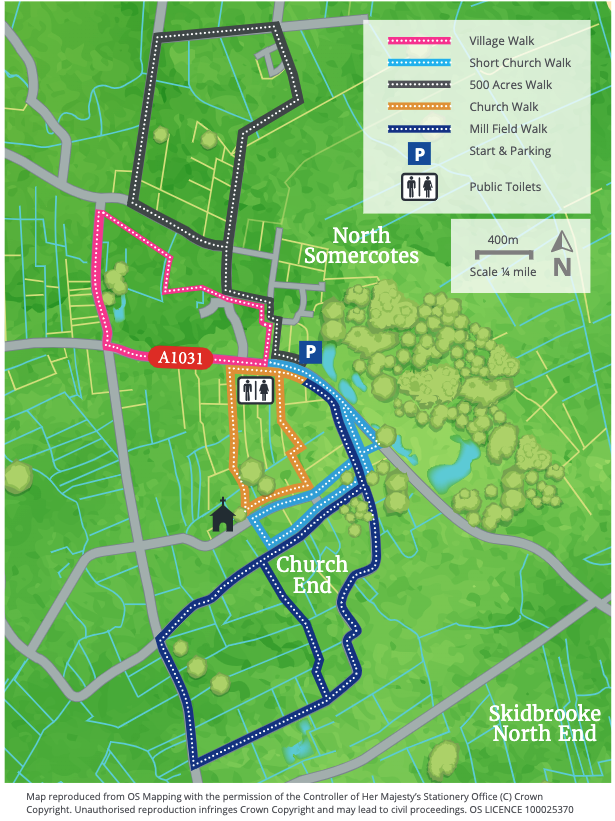 1From the village hall walk away from the village centre and take the first turning on the right, School Lane.
2After approximately 400 metres (1/4 mile) as the road bends to the right, carry straight on along a lane signed as a bridleway, known as Millfield Road.
3After about 600 metres you enter the parish of South Somercotes. Follow the track and walk up a slight slope to footpath on the left and right.
4Turn right. Walk straight across two fields to a bridge. Cross the bridge and turn left and follow the field edge to another bridge. Continue straight ahead along the field edge to emerge next to a bungalow onto a track and bridleway.
5Turn right and follow the track to a junction with a road.
6At the road carry straight on and follow it as it bends left and becomes School Lane.
7At the end of School Lane turn left to return to the village hall.
The walk uses roadside paths, quiet roads, tracks and field paths. There are no stiles. You may encounter livestock.