Explore the Boston Woods Trust woodlands and green spaces close to the village of Wyberton. The walk takes in Jenny's Wood, Sir Joseph Banks Country Park and Westgate Wood.
Starting point
Jenny's Wood car park
West End Road
Wyberton
PE21 7LP
Grid ref: TF 310 420
Parking
Linked to Public Transport
Refreshments
Dog Friendly
Westgate Wood covers 23 acres and was planted by local volunteers in 1999. Trees and shrubs that grow well in the fenland conditions were selected. Look out for alder, ash, crack willow, downy birch, dog rose, hawthorn, guelder rose and alder buckthorn. The woodland is now managed by Boston Woods Trust. The land next to Westgate Wood is an arboretum dedicated to the Lincolnshire botanist Sir Joseph Banks.
Boston Woods Trust was formed in 2001 to provide the people of Boston with recreational opportunities such as walking and bird watching.  As well as Westgate Woods they manage Beech Wood and Grange Wood in the town.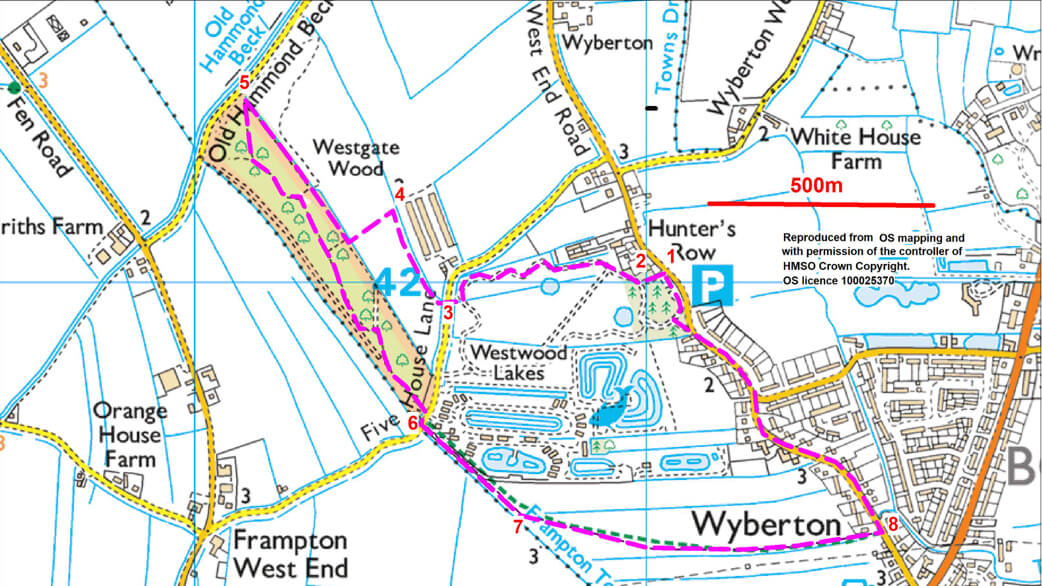 1Walk into the woodland at the north end of the car park. Follow the surfaced path to a junction with another path.
2Turn right and follow the path, past the community orchard to a path junction. Turn right to the road.
3Cross the road and enter the Sir Joseph Banks Country Park, opposite. Follow the path ahead beside the ditch.
4Turn left along the path just before the tower. At the edge of the woodland (Westgate Wood) and at a path junction turn right and follow the surfaced path to a car park.
5Turn sharp left and follow the surfaced path diagonally back through the middle of the woodland. At an open green area turn right and follow the path to a car park and road.
6Turn right and then immediately left along a public footpath. Follow the track along the edge of the drain. Where the track bends to the left continue straight ahead continuing to follow the drain.
7Before the pylon follow the path as it bears left to follow a smaller drain.
8Once in the village and at the road turn left. After approximately 650 metres bear left onto a path into Jenny's Wood. At a junction of paths turn right to reach the car park and starting point.
The walk uses surfaced woodland paths, grass paths, field paths and roadside pavements.
There are no stiles or livestock.
find out more
Boston Woods Trust
Find out more information about the Wyberton Walk on the Boston Woods Trust website.