The villages of Marston and Hougham are situated six miles north of Grantham to the east of the A1, and are surrounded by agricultural land growing wheat, oil seed rape, carrots, potatoes, leeks and turf. Wembley Stadium was turfed from this area.
Each village has its own church, but the village hall, playing field and various village societies are shared. Marston is the larger village and has a pub, the 'Thorold Arms', and a primary school. Both villages were mentioned in the Domesday Book of 1086.
The river Witham rises in South Witham, south of Grantham, and flows through Grantham and Lincoln before flowing into The Wash at Boston. Look out for wildlife as you walk close to the river, including herons and swans.
The village school was founded by Dame Margaret Thorold in 1760 and enlarged over the years. The older part of the building near the road was built in 1861 and is considered one of the best examples of Victorian polychromatic brickwork.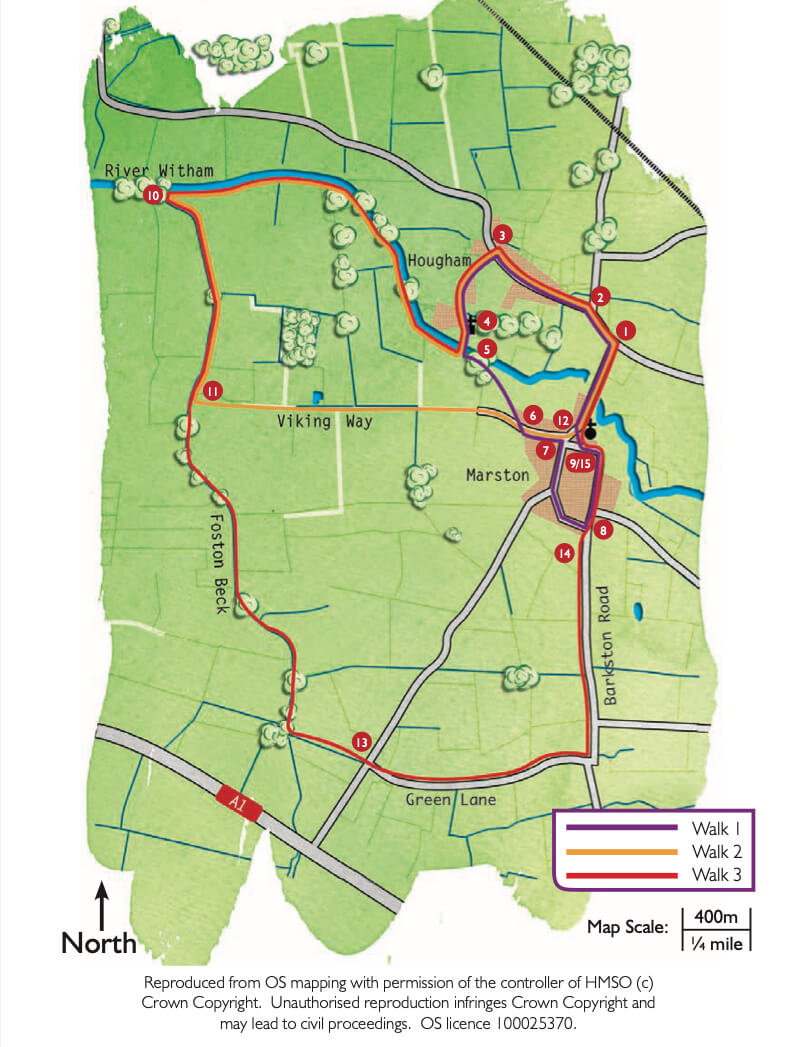 1Leave the village hall car park and turn right along the main road.
2After approximately 200m turn left to Hougham.
3In Hougham village take the second left, Coach Road, and follow it to the church.
4Follow the footpath through the churchyard and across the field corner to the footbridge and weir over the river Witham. Hougham Manor can be seen on your left. Go over the bridge, across the paddock, through the hedge, and over the bridge.
5Carry straight on, along the footpath, across the field towards Marston. This footpath linking the two villages is known as 'The Beanholme'.
6At the junction with a road, Stonepit Lane, turn left and follow it into the village to a junction with Main Street. Opposite is the Thorold Arms.
7Turn right and walk down Main Street to Pinfold Lane. Turn left into Pinfold Lane and follow it to Barkston Road.
8Turn left into Barkston Road and follow it to the left-hand corner where the road becomes School Lane. The entrance to Marston Hall is on this corner. Follow School Lane as far as the end of the Hall's garden (the end of the stone wall).
9Turn right into a narrow footpath leading to the church. However, before doing this go a little further down School Lane to view the school itself, then return to the footpath. At the end of the footpath turn left and follow the village green to Bridge Street and turn right back to the village hall 0.25 miles (500m).
The walk uses roadside paths, quiet lanes and field paths.  There are no stiles.  You may encounter livestock.