Tattershall & Coningsby Walk Short
This walk takes you alongside a river with a great opportunity to spot river wildlife. It also goes through the heart of Coningsby village. It uses field paths, river banks and roadside paths that are likely to be muddy.
Starting Point 
Market Place
Tattershall
LN4 4LQ
Grid reference: TF 212 579
Parking
Linked to Public Transport
Refreshments
Dog Friendly
Tattershall village lies between the Fens and the Wolds and is dominated by the 130ft red brick tower of the medieval Tattershall Castle and the impressive parish church which stands close by.
Tattershall Castle was built in the 1440s by Lord Cromwell. An earlier stone castle existed on the site and carved stone remnants have been found in local houses. The red brick tower is a masterpiece of early English brickwork and is one of the most important fifteenth century brick keeps in the country. It is now owned by the National Trust.
The walk starts from the Market Place and the Green, the heart of the village and a conservation area. The Buttercross, built in the fifteenth century was the centre of the once regular markets held in the village. The War Memorial and the Millennium Monument can also be seen on the Green.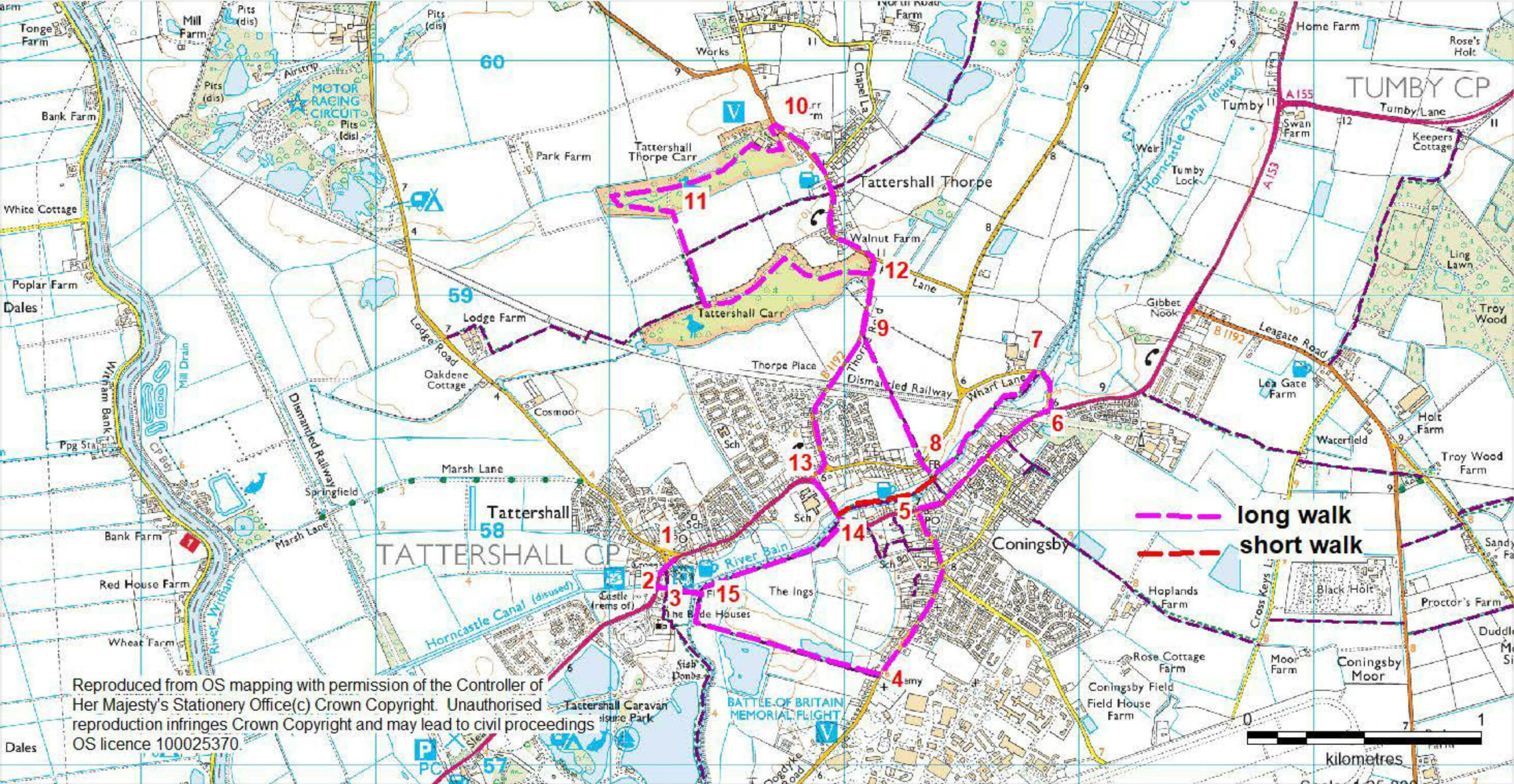 1Leave the Market Place and turn right towards the church and castle.
2After approximately 140 metres, turn left onto a public footpath and follow it straight ahead beside the remains of the Horncastle Canal to a bridge over the River Bain at Tattershall sluice.
3Cross the river and turn right. Follow the river bank for approximately 150m before turning left and following a footpath, between two fishing lakes, to a road in Coningsby.
4Turn left and at the roundabout continue ahead along Silver Street into the centre of Coningsby.
5At the junction with the High Street turn right. Cross the road at the pedestrian crossing and continue in the same direction.
6After approximately 800 metres (0.5 miles) turn left along a lane signed to Tattershall Thorpe.
7Cross the river and then turn left along the footpath beside the river. Walk under the old railway bridge and continue along the river to a junction with a footpath and pedestrian bridge over the river.
8Continue straight on along the riverside footpath to a road. Cross the road with care, cross the river, turn right onto a footpath and continue beside the river but on the opposite bank.
9Cross the river over the bridge at Tattershall sluice and follow the footpath straight on beside the old canal to the road. Turn right to return to the Market Place.
Accessibility & Suitability
The walk uses field paths, roadside paths, river banks, quiet lanes and woodland paths, which may be muddy in places.
You are likely to encounter livestock.