Mumby to Hogsthorpe – Coastal Country Park Walks
The villages of Mumby and Hogsthorpe lie within the Lincolnshire Coastal Country Park (LCCP) a few miles inland from the coast. Mumby's origins date back to the Anglo-Saxon period and Hogsthorpe was first recorded in the 12th century. Mumby is situated on the A52 14 ½ km (9 miles) north of Skegness in the Lincolnshire Coastal Country Park. 
Restaurant
This walk will take you past three pubs, The Red Lion at Mumby and the Saracens Head and Victoria Tavern in Hogsthorpe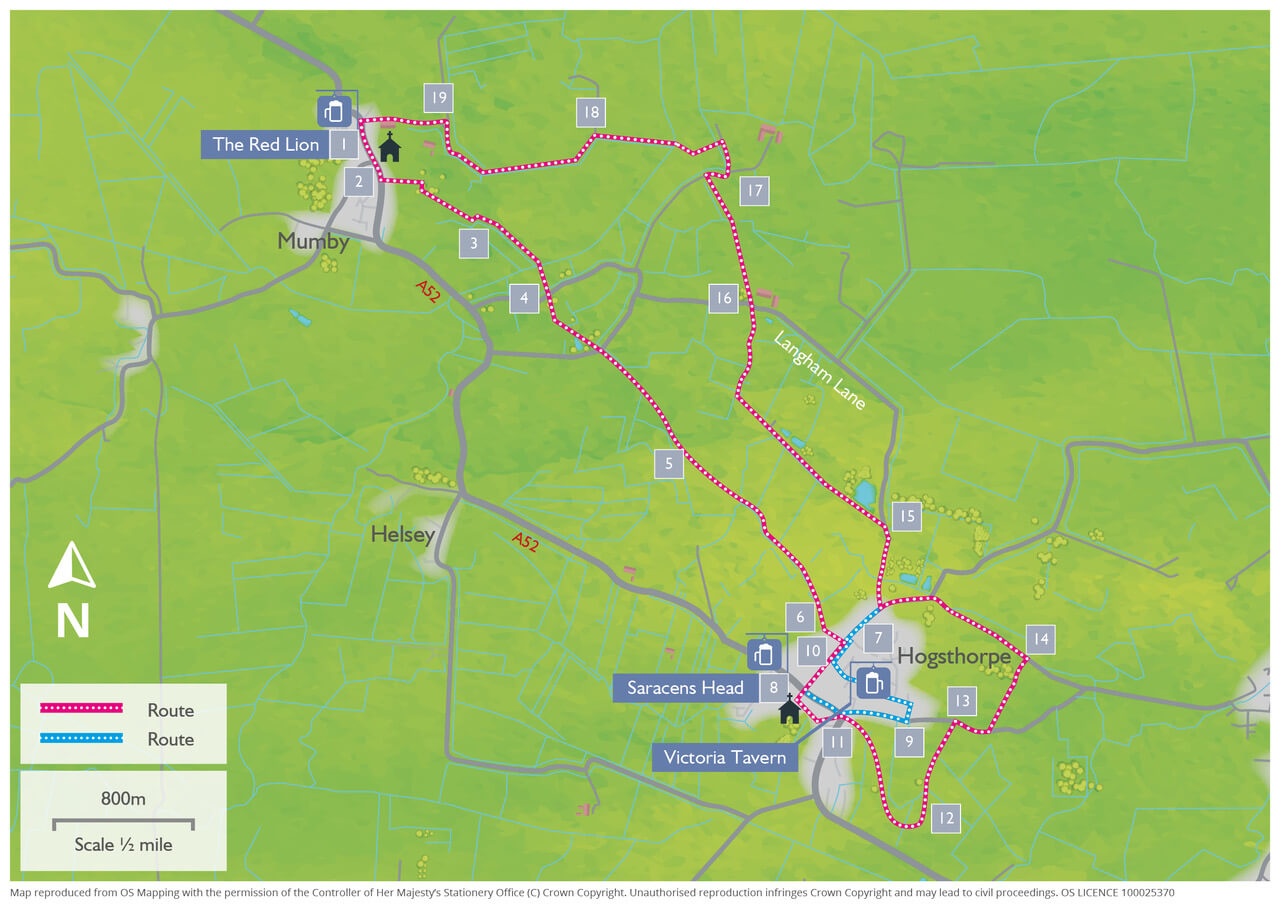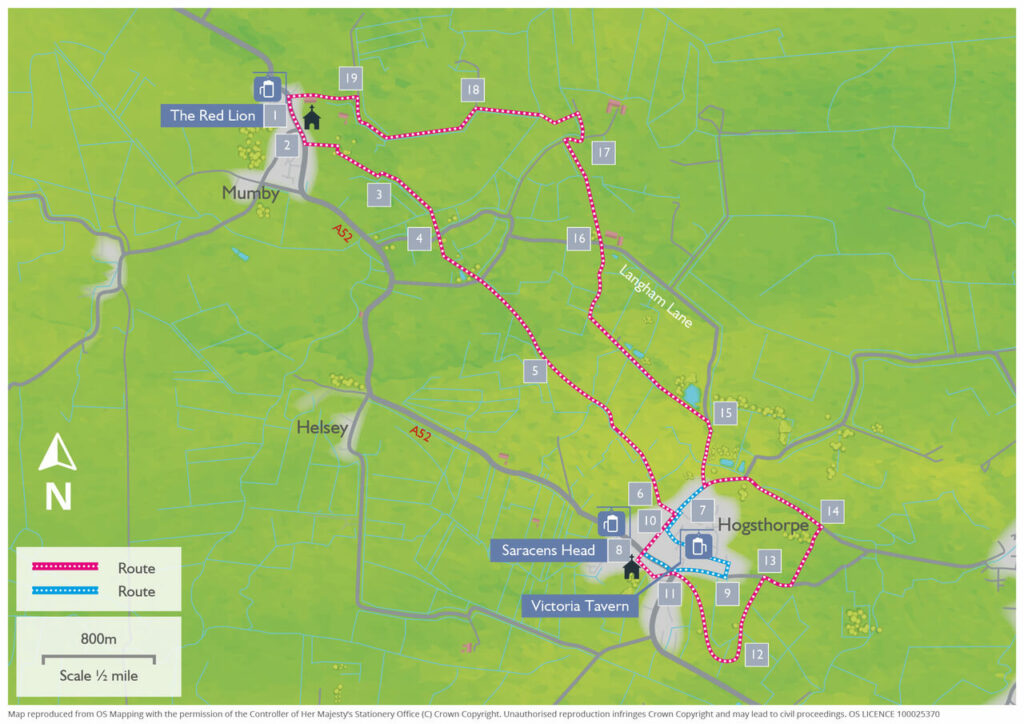 The Coastal Country Park stretches along the coast from Sandilands to Chapel St Leonards, and inland to Hogsthorpe, Mumby, Anderby and Huttoft. There are miles of stunning sandy beaches, wildlife packed nature reserves and varied attractions including the North Sea Observatory, Cloud Bar, Round and Round House and Sound Tower.
Partner organisations are working together Partner organisations are working together to provide high quality facilities for people, better protection for wildlife and landscape and increased opportunities for people to experience and enjoy this part of the Lincolnshire coast.
The Inns on the Edge project is funded by Historic England to look at the significance of rural pubs along the Lincolnshire coast. As well as researching the history of these valued historic pubs the project will also look at the pressures on these businesses and the opportunities for them to thrive and innovate
enjoing the countyside
Please remember the countryside is a place where people live and work and where wildlife makes its home. To protect the Lincolnshire countryside for other visitors please respect it and on every visit follow the Countryside Code. Thank you.
The walk uses field paths, tracks and quiet lanes and may be muddy in places. You are likely to encounter stiles and livestock on this walk.
Walk length: 8km (5 miles) or 9.5km (6 miles) At a leisurely pace the walk will take approximately 2.5 or 3 hours to complete. 
Parking: Please park responsibly in the village. Public transport: Buses run regularly between Skegness and Mablethorpe.
For further information and times call the Traveline on 0871 200 2233 or visit the Lincs Bus website.
more information
Starting Point:
Red Lion pub
Hogsthorpe Road
Mumby
LN13 9SD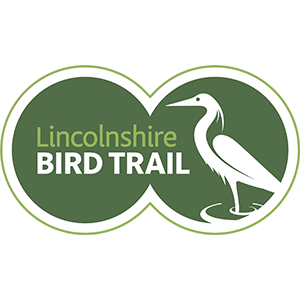 lincolnshire coastal country park
birdwatching
The Lincolnshire Coastal Country Park is a stretch of 5 miles of coastline running from Sandilands to Chapel St Leonards, and inland to Hogsthorpe, Mumby, Anderby and Huttoft. It includes eight Lincolnshire Wildlife Trust nature reserves, unspoilt beaches and sand dunes with plenty of birdlife to discover.
Anderby Creek is 4 kilometres North from Chapel St. Leonards, is this beautiful long stretch of sandy unspoilt beach framed by sand...
more like this in the county
Burghley House is one of the largest surviving Sixteenth century houses. Conceived by William Cecil, Lord High Treasurer to Queen...
Chapel Point Beach is relatively quiet and features a charming row of traditional privately owned beach huts....
Gibraltar Point Nature Reserve
Visit Gibraltar Point Nature Reserve on the large stretch of unspoilt coastline that runs southward from Skegness to the south of The...
Walk, cycle or ride on this route from Horncastle to Woodhall Spa. Discover 3 miles of flat, surfaced bridleway along the mid-section of the old Horncastle to Woodhall...
Horncastle & Woodhall Spa
Enjoy public and private hire sea and river cruses from Boston. Cruise up and down the tranquil waters of the River...
A quiet, atmospheric ancient woodland, home to an abundance of broad leaf and coniferous trees. Catch a glimpse of herons and kingfishers by the...
Running 3 trips a day for 50 minutes listen to historic commentary down the fossdyke canal the oldest Roman canal in the country....
Cleethorpes Coast Light Railway
Sit back and enjoy a ride behind one of the narrow gauge steam or diesel locomotives. The two mile return journey offesr a relaxing way to enjoy beautiful...
The fascinating yet tranquil, consisting of over 150 clipped Yew Trees in all manner of unusual...
Enjoy traditional horse and carriage rides around the beautiful Vale of Belvoir, an area of outstanding natural beauty on the border of Lincolnshire, Nottinghamshire and...
Walk, run or cycle along the Fossdyke Canal Trail which runs alongside the canal from Lincoln to Saxilby, approximately 6 miles. Built by the Romans to join Lindum...
Hubbard's Hills is an Area of Natural Beauty with a unique glacial overspill channel formed as a result of the last ice...
Walking Tours and step - on coach tours in the historic City of Lincoln. Scheduled walking tours of the historic Cathedral Quarter by qualified...
Discover this long distance multi-user route through the scenic landscape of the Lincolnshire Wolds, extending form Market Rasen to Horncastle. It is a 69 mile trek and...
Discover Red Hill Nature Reserve, a steep natural chalk escarpment with acres of plateaued wild landscape with wild flower...
Sandilands is a beautiful, natural golden sandy beach stretching for miles. It is clean and picturesque and is dog friendly...
Discover Sutton-On-Sea, a small coastal village with an excellent well-kept, golden sandy beach, the perfect traditional seaside...
Discover the perfect tour for thrill seekers. Listen to the spooky stories and ghostly tales of the historic City of Lincoln....
Explore the great outdoors and enjoy Lincolnshire's scenic landscapes along the Viking Way. The Viking Way is a long-distance walking route that is named after an area...
Explore 110 acres of beautiful nature in the Waters' Edge Country Park and Nature Reserve. Discover more about the natural world with the interactive displays in the...
Whisby Nature Park boasts an array of habitats and plant species. Just a short distance from Lincoln City centre is this relaxing natural...
Woodhall Spa Woods boasts beautiful broadleaf woodland, with scenic accessible routes and provides habitats for various...
This diverse landscape is constructed of reed-beds, meadow, scrub, freshwater and saltwater environments, providing rich microscopic life and habitats for invertebrates....
Bardney Limewoods National Nature Reserve contains Britain's largest concentration of woodland dominated by small-leaved...
Walk across the network of long-distance paths of the Macmillan Way which runs from Boston on the Lincolnshire coast to the Dorset Coast at Abbotsbury. It is 290 miles...
Discover country lanes to be explored by car, bike or on foot. Find a whole community of attractions, places to stay, churches to visit and places to eat and drink...
Travel back in time to between AD50-60 when a legendary fortress was built by the Romans in Lincoln, then known as 'Lindum Colonia'. Follow the Roman Trail and...
Trace the footsteps of Lord Alfred Tennyson one of the most famous poets of the 19th century on the Tennyson...
Willingham Woods is the ideal location for the nature lover with possible sightings of deer, ducks and...
Hussey Tower was built around 1450 by Richard Benyngton, collector of customs and excise in Boston, during the period in which it was the wealthiest port in England...
Discover mixed woodland in the Country Park and wet valleys, grassland and scrubland in the Nature...
Discover this Arts & Heritage Trail that leads you from Lincoln Cathedral to St Deny's Church, Sleaford. Enjoy the rich history and local stories of the county, spot...
Tattershall College is the ruin of a grammar school built in the late 15th century. It is one of a complex of buildings built by Ralph, Lord Cromwell, including...