The Lincolnshire Coastal Country Park lies between Sandilands, Chapel St Leonards and Huttoft, on the quiet Lincolnshire coast. With five miles of beautiful sandy beaches, amazing big skies and some wonderful wildlife sites, the Coastal Country Park is a great place to explore and enjoy. It aims to create a sustainable, diverse network of wildlife habitats; support thelocal economy; raise awareness of its natural and cultural heritage and provide recreational opportunities. One of the best ways to discover the area is on foot and these walks will take you along the coast. Walking along the beach and behind the dunes you will discover wildlife rich nature reserves, the Round & Round House and the Cloud Bar.
Starting point and car park: Car park, Sea Road, Anderby Creek. Grid reference: TF 551 761. Post code: PE24 5XW
Parking
Toilets
Linked to Public Transport
Refreshments
Dog Friendly
Look out for the pill box on your left opposite the last bungalow. This Lincolnshire three bay construction is unique to the county and formed part of the Second World War coastal defences built when the country was under threat of invasion during 1940. You may see others as you travel around the Coastal Country Park area.
The Cloud Bar has been designated the world's first official cloudspotting area by The Cloud Appreciation Society. On the platform you will find cloud menus to help identify clouds, mirrors to reflect the sky and specially designed cloud viewing seats. A great place to enjoy the big skies of Lincolnshire!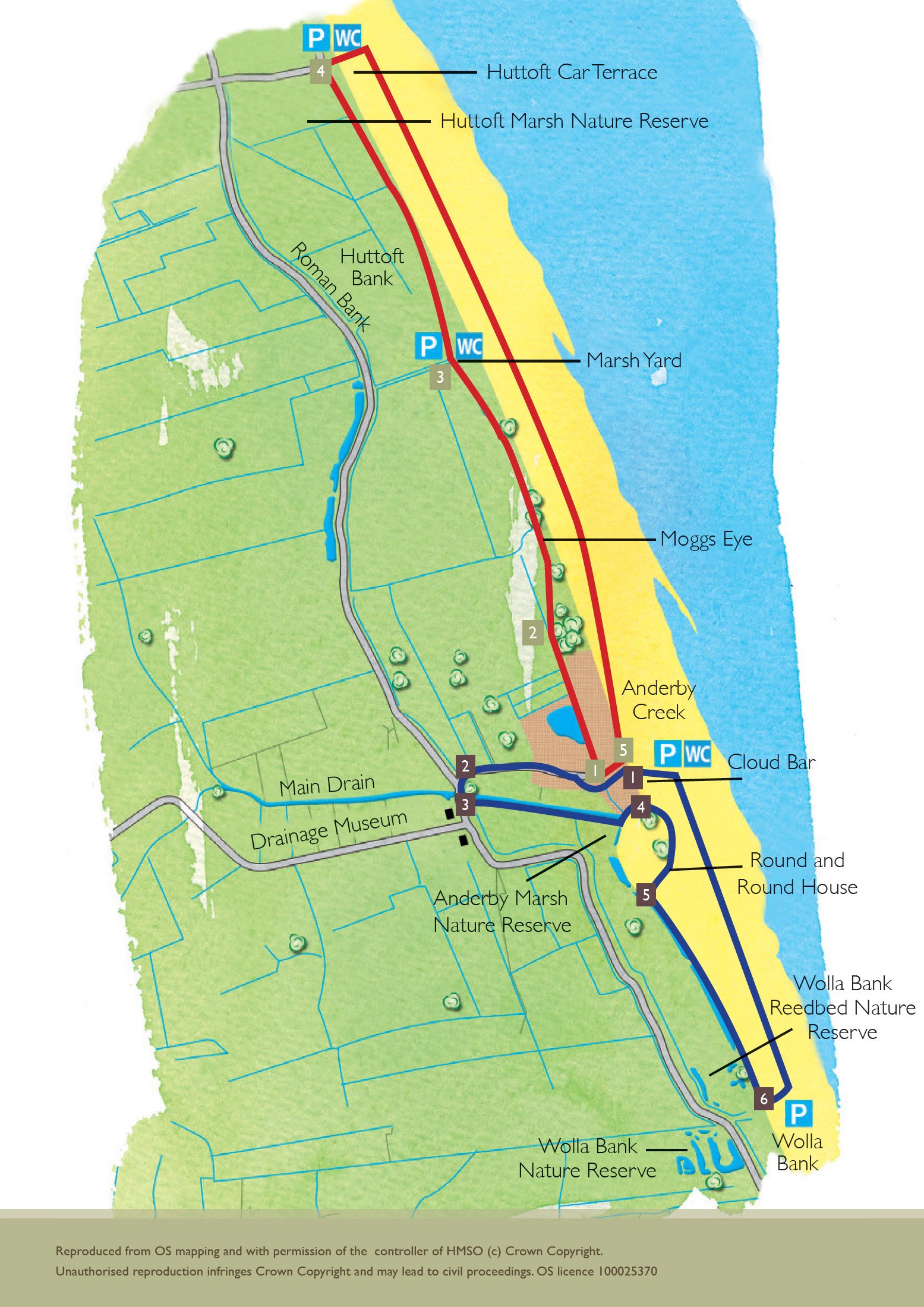 1With your back to the beach café walk ahead along the track running alongside the car park and then past a row of bungalows. Continue straight on through a small area of sycamore trees.
2After leaving the trees bear right to a track running along the bottom of the dunes, an area known as Moggs Eye. Follow the track into Marsh Yard car park and picnic site, to the toilets.
3For the shorter walk turn right, just after the toilets, on to the beach. Turn right and walk along the beach for approximately 1.5km (1 mile).
For the longer walk continue straight on through the car park. Bear left to follow the England Coast Path behind the dunes and along the edge of a field. At the end of the field cross the bridge and continue on in the same direction. On your left is Huttoft Marsh nature reserve. Look out for the bird viewing screen on the left.
4At the road, and Boatshed café, turn right onto Huttoft Car Terrace. Walk onto the beach, turn right. Walk along the beach for approximately three kilometres (1.75 miles) back to Anderby Creek.
5Anderby Creek is easily identified by the row of houses on top of the dunes. Turn right, just before these houses, past the Cloud Bar, to return to the starting point.