This walk is set in the attractive countryside between Thurlby and Bourne. It climbs out of the village to a local high point from where there are views across the Fens. The walk may be uneven and muddy in places.
Starting point
Methodist Church
High Street
Thurlby
PE10 0ED
Grid reference: TF 097 169
Linked to Public Transport
Refreshments
Dog Friendly
Thurlby is found where the Fens meet the gentle slopes of the Kesteven Uplands, the Car Dyke forming the boundary between the two landscape character areas.
The local landscape is well wooded, including the ancient Bourne Wood and Math and Elsea Woods.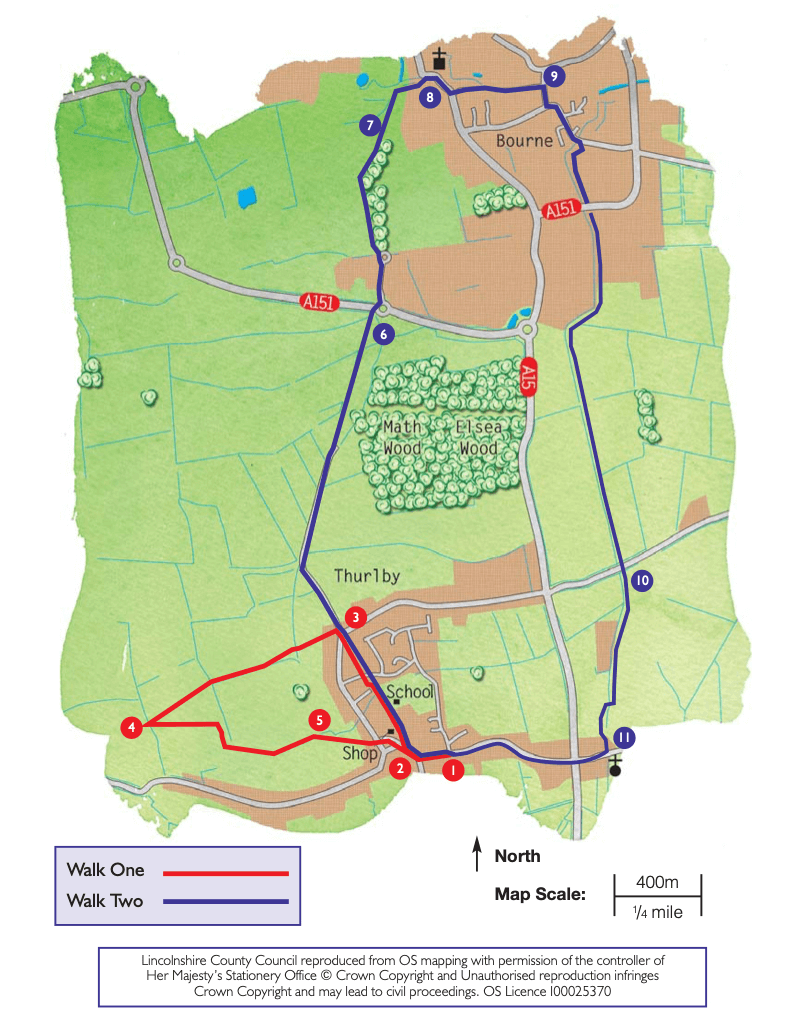 1Turn right onto the High Street, past the Youth Hostel, and follow it as it bends to the right.
2As it then bends to the left, turn right onto Crown Lane, towards the school and community centre. Continue straight ahead along the path, keeping the school on the right. Keep straight on past the rear of some houses and follow the path to a road. Cross the road and continue straight ahead along a public footpath. Walk the length of the field to a road. Cross the road, past the grass triangle, and walk along Wood Lane.
3Almost immediately take the public footpath on the left, along a gravel drive and then between a garden and paddock before descending through the disused railway line and on to a footbridge. Bear left and follow the ditch up the hill. At the top of the field continue straight ahead across the next field heading to a tree and fingerpost in the hedge ahead. At the top of this field, at the tree and fingerpost, turn around and admire the panoramic views across the Fens and South Kesteven. Look out for Spalding Power Station and the wind farm.
4With the footpath sign behind you, head back down the hill, but by a different route. Bear slightly right across the field and head towards the right-hand end of the short section of hedge along the bottom of the field (waymarker post in hedge). At the hedge turn right along the field edge. After approximately 90m turn left and cross the bridge. Walk diagonally right across the field to the hedge line. Follow the field edge down the hill towards the barn.
5At the side of the barn go through the gate and then bear diagonally left to another kissing gate. Continue across the next field in the same direction to a gate in the corner. Go through the gate and across a private garden to join Northorpe Lane. Cross the road and turn right, and almost immediately left to pass the Post Office and shop. Follow the road as it bends to the right and joins the High Street. Turn left along the High Street to return to the starting point.
The walk uses roadside paths and field paths. You may encounter stiles and livestock.