Enjoy a walk close to Horncastle town centre through a Woodland Trust woodland and beside the Horncastle canal. The route also uses a stretch of the Spa Trail. Great for wildlife watching!
Starting point
Horncastle swimming pool
Coronation Walk
LN9 6HP
Grid reference: TF 255 693
Parking
Linked to Public Transport
Refreshments
Dog Friendly
Banovallum Carr is owned and managed by The Woodland Trust. The woodland covers 20 acres and consists of mainly birch and alder trees with some willow and buckthorn along its edges. The first trees were planted on the site by local people in 2001 and a further adjacent area planted in 2007. Regular mowing takes place along the rides and other areas to encourage grassland habitat and allow people to explore the area.
The Horncastle Navigation canal opened in 1802 at a cost of £45,000. It ran between Horncastle and Tattershall, a distance of 11 miles, where it joined the Tattershall canal which linked to the river Witham. Now it is a great place to watch wildlife.
The section between points 6 and 7 forms part of the Viking Way, the long distance walking route that crosses Lincolnshire. The 147 mile route starts on the banks of the Humber and ends in Oakham in Rutland.
The Spa trail is a multi-user route that runs between Horncastle and Woodhall Spa. Part of it follows the line of the old Horncastle and Woodhall Junction railway. The railway line opened in 1855 and closed to passenger trains a century later in 1954. It finally closed to goods trains in 1971. The trail is dotted with sculptures along it length.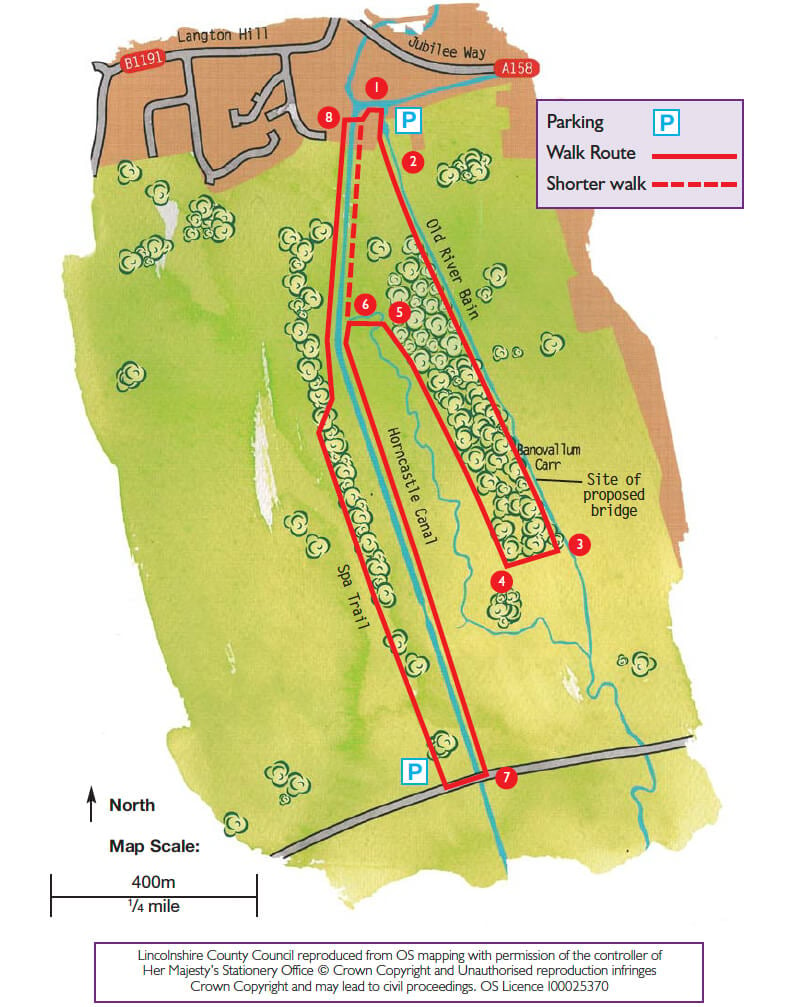 1With your back to the swimming pool entrance turn right and then right again between the hedge and river, keeping the river on your left. Walk across the grassed area to a kissing gate in the corner. Continue straight on along the field edge.
2After approximately 50m turn left through a gate to enter Banovallum Carr. Follow the path to the right and then keep left to walk alongside the river. Follow this path for approximately 0.5 miles (800m) to the end of the wood.
3Turn right and walk along the edge of the wood.
4At the end of the wood turn right and follow the path to a gate and bridge.
5Cross the bridge and walk along the field edge, keeping the ditch on your right, to the canal bank.
6Turn left and follow the path beside the canal to a road.
7At the road turn right, over the canal, and then right along the bridleway through the small car park to join the Spa Trail. Follow the Trail back to the edge of Horncastle, approximately one mile (1.6 kilometres).
8Turn right over the canal to return to the swimming pool and starting point.
This walk uses field paths, woodland paths and the surfaced track of the Spa Trail. 
There are no stiles. You may encounter livestock.