Aubourn & Bassingham Short Walk
A circular walk from the village of Bassingham and taking in the local countryside.
Starting point
Bassingham
Village Hall car park on Lincoln Road
LN5 9HB
Grid reference SK 911 598
Linked to Public Transport
Refreshments
Dog Friendly
This walk explores the attractive countryside between the two villages of Bassingham and Aubourn, that lie close to the river Witham south of Lincoln.
Bassingham is a large village by the river Witham with many red brick houses and cottages. The settlement is first documented in the Domesday Book where a manor belonging to the King is recorded. It was known as Basingeham which derives from the old English meaning 'the homestead, the estate of the Basingas'.
A number of village buildings were destroyed in a fire in 1664 and a flood in 1912.
Aubourn appears in the Domesday Book as a manor held by Robert de Todeni. It was known as Aburne derived from 'alr-burna' meaning 'the stream where alders grow.'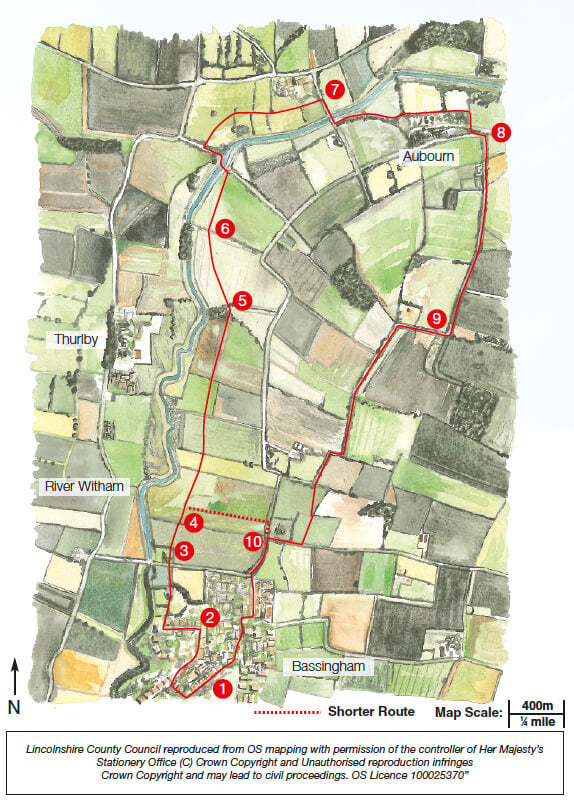 1Leave Bassingham Village Hall car park and turn left. At the crossroads turn right onto Lincoln Road. At the T-junction turn right, past the war memorial, and follow the road as it bends to the right past the Wesleyan chapel. Follow the road around to the left and continue past the shops, post office and pub.
2Turn left along Water Lane. Just before the road bends, turn right along the public footpath between a house and bungalow. Follow the path straight on along the edge of two fields to a road.
3Cross the road and follow the restricted byway opposite to the right of the cottage. Cross the bridge and the field to the metal gate in the hedge. Follow the path with the hedge on your right.
4In front of the farmhouse turn right and follow the track to the road and turn right.
10Follow the road into the village until it meets Linga Lane, turn right. At the junction with Lincoln Road turn left to return to the car park.
Accessibility & Suitability
This walk uses roadside pavements, tracks and field paths. There are no stiles. You may encounter livestock